Virtual RAM or so-called Dynamic RAM expansion or extended RAM has been the new trend with smartphone manufacturers. While RAM is something that most people are aware of, Virtual RAM or extended RAM is a relatively new term, that has gained popularity in the recent few months. If you're searching to find out whether your realme device does come with support for Dynamic RAM Expansion or not, you're at the right place. This post will list out all the devices supporting extended ram technology, where to find the feature under Settings, and what the feature actually does.
What is Dynamic RAM Expansion or Virtual RAM?
In short, Dynamic RAM Expansion is a feature that lets users expand their device's RAM capacity by taking up space from your internal storage. It works in a way similar to Virtual Memory on computers. This new technology can help users in many ways – boosting up your device's RAM, which in turn helps in a greater number of apps staying in memory, make the user interface much smoother and snappier. Note that, this is a software trick, and doesn't require you to externally add another RAM stick.
How to Use Virtual RAM on Realme Smartphones
Well now that you've made sure whether or not your device supports realme's dynamic ram expansion technology or not, here's how you can turn on virtual RAM on realme mobiles.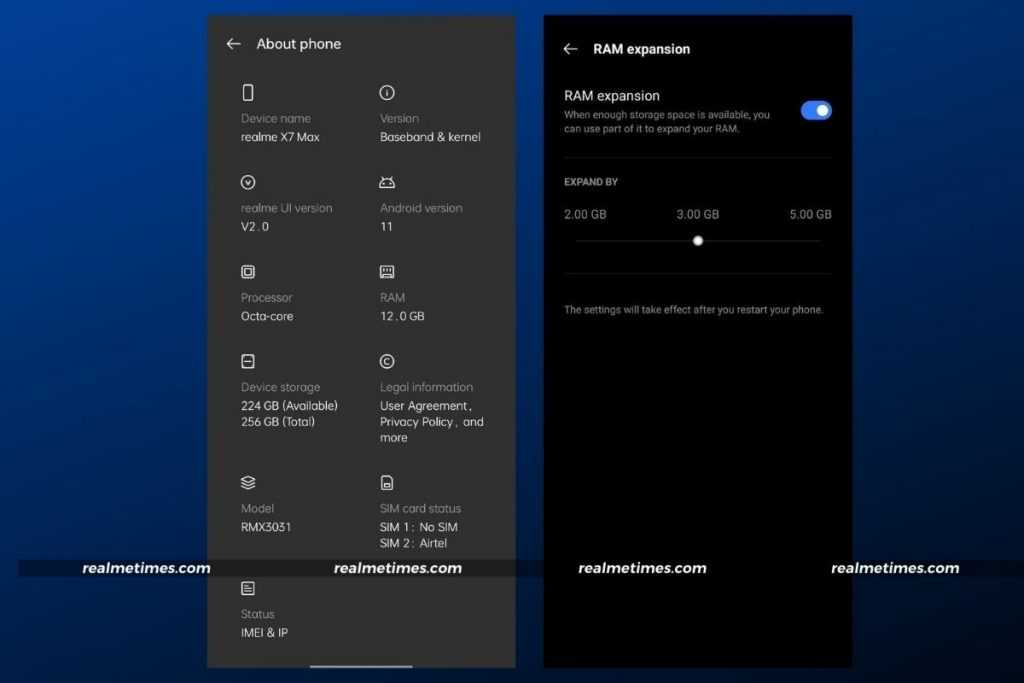 Start by opening the Settings application.
Scroll down, navigate to the About Phone section.
Now, tap on RAM multiple times to bring up the Dynamic RAM Expansion toggle.
On the next page, turn the toggle ON and adjust the amount of RAM you'd like to add using the toggle.
Finally, click on Save and you're good to go.
List of Devices with Dynamic RAM Expansion
Realme GT Neo
Realme GT Flash Edition
Realme X2 Pro
Realme X50
Realme X50m
Realme 8i
Realme 8s
Realme Q3 Pro
Realme Q3
Realme Q2 Pro
Realme Q2
Realme V3
Realme V5
Realme V15
Realme Q3i
That said, do let us know your thoughts on Dynamic RAM Expansion by dropping a comment down below.