Realme UI 3.0 based Open Beta is now available for the Realme X50 Pro in India. The company also recently unveiled the Early Access for the Realme 8S 5G in the country. Realme UI 3.0 includes numerous new Android 12 features and continues the product idea of Seamless Fun, with improvements in design, fluidity, customization, privacy, and functionality. In this post, let's take a look at the Realme UI 3.0 Open Beta program for Realme X50 Pro, its features and the application process.
Please keep in mind that this is an Early Access programme, and there's only a limited number of seats available. Also, like with any beta, there will very certainly be problems and glitches, so don't use this as your daily driver. One more word of caution: reverting to Android 11 may delete your phone's storage.
Realme X50 Pro Users Can Now Apply for Realme UI 3.0 Open Beta
Here are some key takeaways you should know before upgrading your phone to realme UI 3.0 open beta.
Check to see whether your phone is rooted.
Back up your personal data before proceeding to avoid data loss.
Some third-party app versions may not be compatible with Android 12 yet, and if you update your smartphone, these apps may become unavailable or crash. As a result, before you upgrade, be sure to update all of your apps to the most recent version available on the Play Store.
The Early Access versions of the game may have an unpredictably negative influence on your phone and daily use.
Ensure that your phone's storage capacity is greater than 10 GB. Otherwise, there's a chance that the update will fail (go to Settings > Additional Settings > Storage to check the phone's storage).
It is impossible to ensure that every application will receive the update due to uncontrollable factors such as network communication and plan adjustments. If you do not receive the update, we recommend that you wait for the official release.
How to Apply for Realme UI 3.0 Open Beta on the realme X50 Pro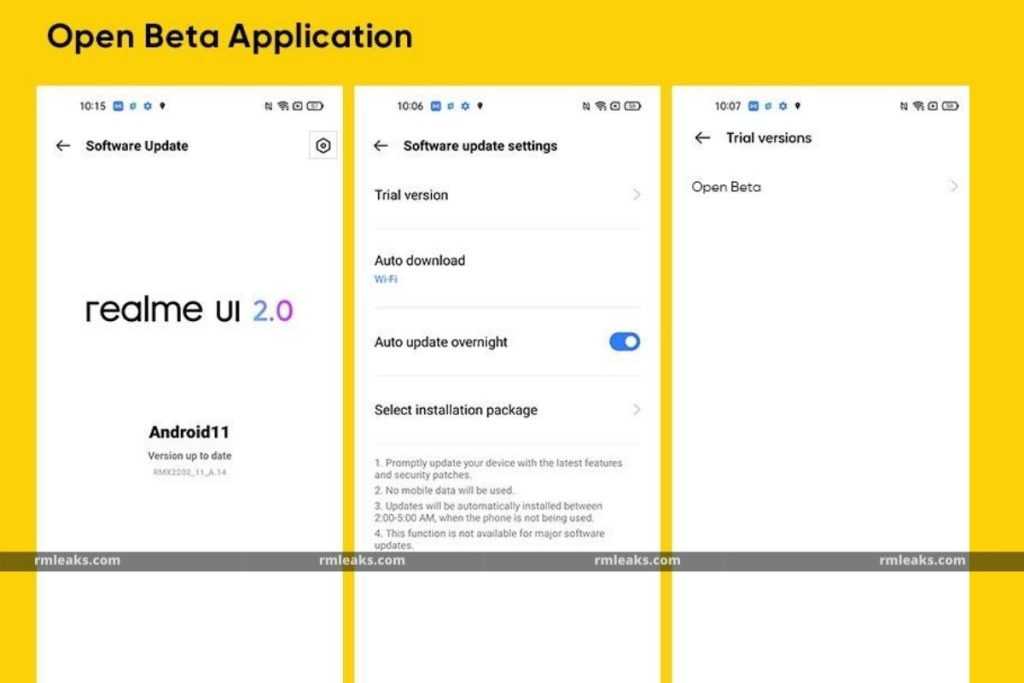 Start by opening the Settings application.
Next, head over to software information and ensure you're running: RMX2076PUNV1B_11.C.23 / RMX2076PUNV1B_11.C.24.
Now, head over to Settings > Software Update > tap on the Settings icon on the top right corner >Trial Version > Open Beta > Apply Now and choose to Submit.
That said, what are your thoughts? Do let us know by dropping a comment down below.