Battlegrounds Mobile India, or BGMI (download), is now accessible for all Android and iOS smartphone users to download. The game is an official recreation of PUBG Mobile, bringing back all of the features as well as some new ones. The game's manufacturer ensures, among other things, that the weapons function precisely as they do in real life, which implies that some guns may not have a smooth recoil.
As a result, players frequently have difficulty hitting headshots, especially during long-range confrontations. Dealing with the recoil of the rifle becomes a burden, resulting in people missing headshots by a significant margin. Players have frequently been left wondering how they could deal with this difficulty and get ideal outcomes in BGMI.
The key to solving to aiming perfectly like Pros such as Johnathon, Mortal, Neyoo, ZGod, Snax is not adjusting the sight and installing various weapon accessories but modifying the sensitivity settings. Let us take a look at the perfect BGMI sensitivity settings used by pros for taking the perfect headshots.
Also Read: These Realme Devices Support 90FPS Gaming in BGMI and PUBG Mobile
What are Sensitivity Settings in BGMI (PUBG Mobile)?
The word Sensitivity might sound troubling to a lot of people, but it isn't as intimidating as it sounds. What exactly are BGMI sensitivity settings? Sensitivity settings in BGMI imply the ease with which a user can glance around while playing the game. The settings aid with the player's mobility, which is important since it allows you to rapidly spin around to fire and do other things. In short, it helps users enhance their overall gaming experience.
There are three different types of sensitivity settings available in the game, namely Camera, ADS (Aim Down Sight), and Gyroscope. Each one of these settings helps in movement, aiming for the headshot, making quick tactical movements, and more. BGMI offers users default pre-loaded settings that generally come as Low, Medium, and High. However, it is always a good recommendation to go for a customized setting as it helps you get a better grip and control over the game dynamics and increases your chance to win a match significantly.
Best BGMI Camera Sensitivity Settings for Perfect Headshots (aka PUBG Mobile)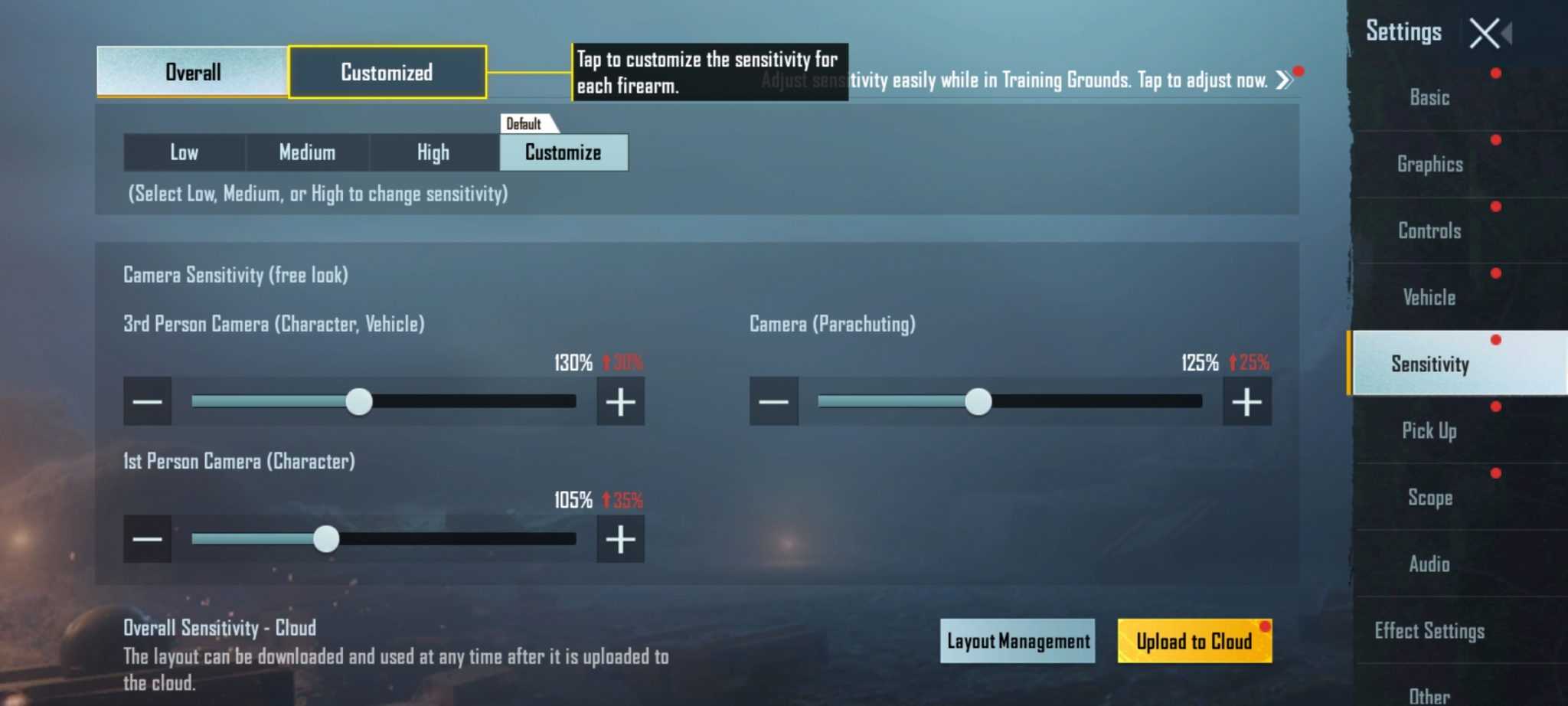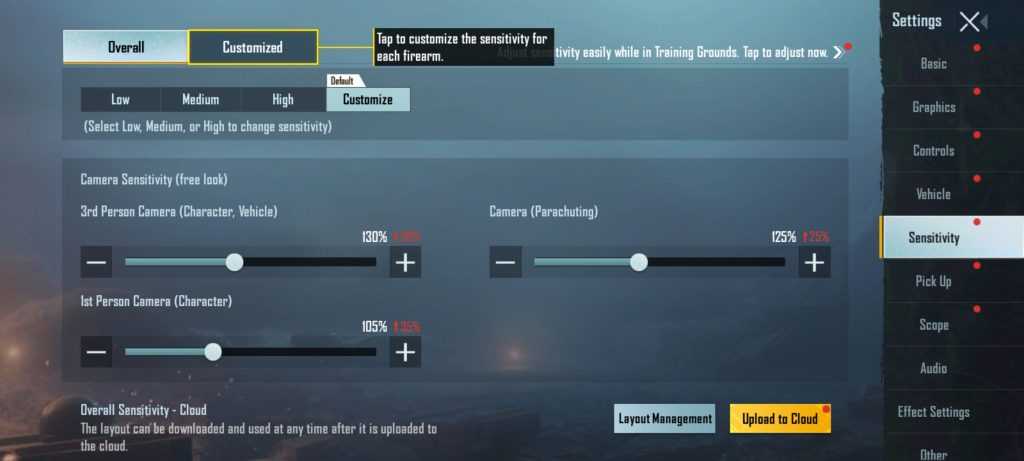 In BGMI, the camera sensitivity settings allow you to glance around while playing. The player's mobility is aided by the settings, which is important since it allows you to rapidly spin around to fire and more. Here's what camera sensitivity for free look for 3rd person camera a BGMI pro like Mortal uses:
TPP: 110-120%
Camera: 120-150%
FPP: 100-105%
Aside from that, the game has camera sensitivity options for various scopes. This is something that should be set according to personal liking, but if you're having trouble with it, you may try the options below to improve your experience.
2x Scope: 60-80%
3x Scope: 15-30%
4x Scope: 10-25%
6x Scope: 15-20%
8x Scope: 5-10%
TPP with No Scope: 115-130%
FPP with No Scope: 115-130%
Red Dot, Holographic: 55-70%
Best ADS Sensitivity Settings for BGMI (aka PUBG Mobile)
You might have heard a lot about ADS, but not a lot of people actually know what it means, so basically the ADS sensitivity settings are important for aiming in the Battlegrounds Mobile India. "Aim down sights" is the most popular definition of ADS, which is frequently employed in first-person shooters.
The act of pointing a weapon in first-person perspective to obtain a better look at distant foes is referred to as this. The setting will improve your weapon control, and if the ADS settings are exactly right, you can even achieve precise accuracy. Here are some ADS settings from BGMI experts such as GodLike Johnathan to experiment with:
Red Dot, Holographic, Aim Assist: 55-60%
TPP No scope: 95-120%
FPP No scope: 100-120%
2x Scope: 37-45%
3x Scope: 30-35%
4x Scope: 25-30%
6x Scope: 20-23%
8x Scope: 10-13%
Best BGMI Gyroscope Sensitivity Settings (aka PUBG Mobile)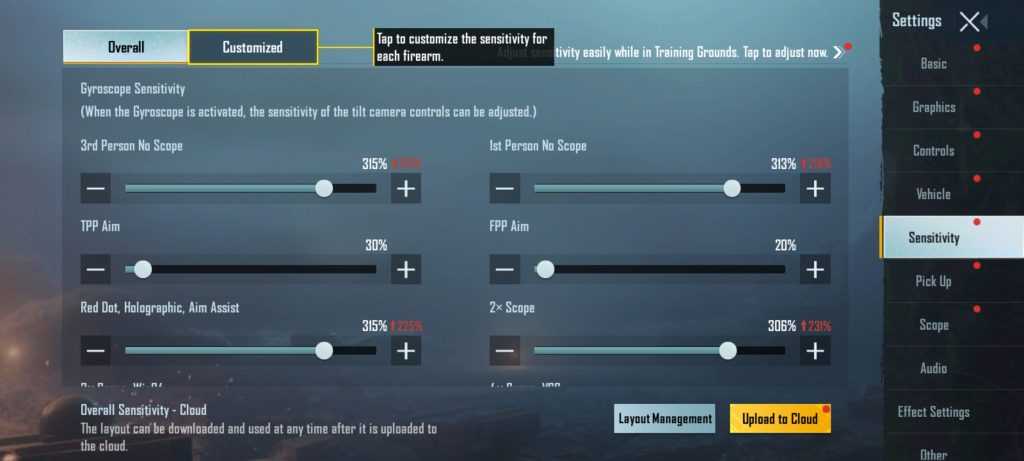 If you wish to play like the Pros in Tier 1 tournaments, you might know the importance of Gyroscope settings in BGMI. The sensitivity settings for the gyroscope in Battlegrounds Mobile India (BGMI) are quite important. It is critical to train with a gyroscope if you are a gyro player or wish to try with one while playing the game. Gyroscope settings, if enabled, can assist players to improve their response speed, aim, and recoil control in BGMI. The option essentially makes use of the gyroscope built into your smartphone. Here are some recommendations.
6x Scope: 80-100%
8x Scope: 50-70%
3rd Person (TPP) No Scope: 300-350%
1st Person (FPP) No Scope: 300-350%
Red Dot, Holographic: 300-350%
2x Scope: 300%
3x Scope: 180-240%
4x Scope: 180-210%
Did you know that you could also share your sensitivity settings too? Yep, you heard that right. Krafton provides gamers with an option where they can change their sensitivity settings very easily by just entering a code. Here's how you can share or use a BGMI sensitivity code easily.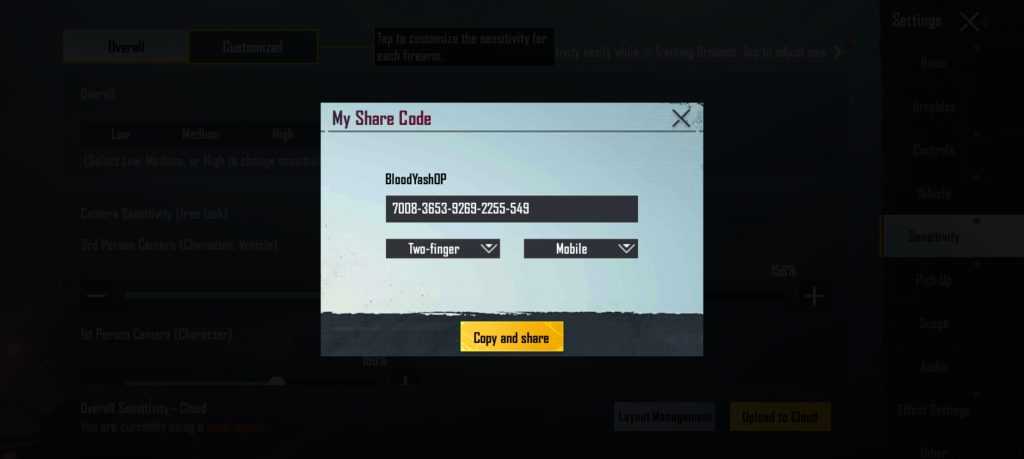 Here are some steps to follow if you would like to share your BGMI sensitivity code.
Begin with launching Battlegrounds Mobile India (BGMI) or PUBG on your Android or iOS smartphone.
Next, tap on the Arrow icon present at the bottom right corner in the Lobby and navigate to the Settings menu.
Next, head over to the Sensitivity tab and you'll notice an option named Layout Management. Tap on the button and then select the Share option to generate a share code.
With that, note the code and you're ready to share it with your friends or family.
How to use Sensitivity Code for BGMI?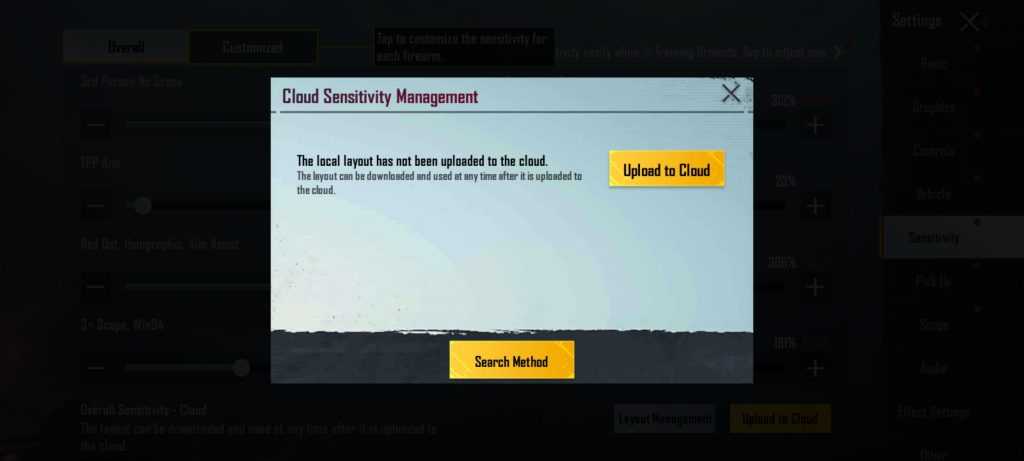 Here's what you need to do, if you've got a code, and you'd like to apply the settings from the person who has shared.
Launch Battlegrounds Mobile India (BGMI) or PUBG Mobile and head over to the Settings menu.
Tap on Sensitivity and then navigate to Layout Management.
Here, choose the Search Method and simply paste or type in the code that you've got.
Once done, you can click on Preview to check out the sensitivity settings. Tap on Use Layout and the new BGMI sensitivity will be automatically applied to your account.
That said, how much of a difference do you notice with the new sensitivity settings? Do let us know by dropping a comment down below.