Realme's current generation smartphones run on Realme UI based on Android 10 and 11. It offers many customization options, but few certain hidden features exist, and not everyone knows about them. In this post, I will let us some awesome cool tips and tricks using which you could use your new Realme smartphone as a Pro.
7 Best RealmeUI Tips and Tricks to Use it like a PRO
     1. Three Finger Screenshots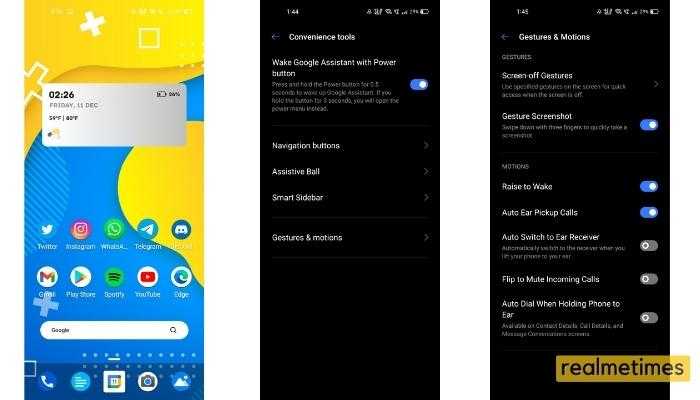 Starting with one of the most requested features, the ability to capture Screen Shots with the help of 3 fingers. Similar to other smartphone manufacturers, Realme also has its own way. With this method, users can capture a Screenshot by just swiping 3 fingers on any app or even on the home screen. While this setting is enabled by default, to disable or re-enable it, you can follow these steps:
Go to Settings -> Convenience Tools -> Gestures and Motion -> Gesture Screenshot
Note: However, If you play or plan on playing games like PUBG or Call of Duty, then it is advised to turn off this feature as many users have reported Ghost Touch issues while playing the games.
     2. Clone Apps  
With modern-day smartphones featuring dual SIM slots, there's been an increasing demand for dual apps; so that people could use 2 different WhatsApp/Instagram or any other account on the same phone. Here's where Realme's Dual Apps come into place. Users can now use Dual Apps to clone the same app and use different accounts on the same phone. Here's how to use it:
Go to Settings -> App Cloner ->  Select the app you want to clone -> Enable it
Also read: How To Root and Install Pixel Experience ROM on Realme 6 Pro and How to use Google Task Mate app on Android with Working Referral Code.
      3. Enable Dark Mode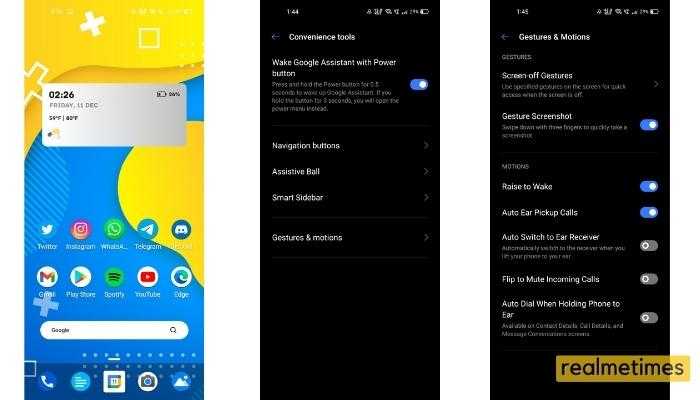 One of the features that smartphone manufacturers and different applications have been highlighting is Dark Mode. While it helps save battery life and reduces the amount of strain your eyes bear while using your phone at night. Realme UI makes good use of it and offers a full system-wide dark mode, including the system apps' launcher and system apps. In order to enable this feature, here are the steps you need to follow:
Go to Settings -> Display and Brightness -> Dark Mode
Additionally, one can also set it to Turn On Automatically from Sunset to Sunrise, and the option is available in the Dark Mode settings.
       4. Split Screen
Split Screen mode allows users to view or use two different apps simultaneously, and this is a handy feature if you want to multitask with your phone. Here's how to enable it: 
Go to Settings -> Split Screen -> Make Sure it is enabled
Next, go to any application which supports Split Screen and Swipe Upwards with three fingers.
        5. Turn Off Ads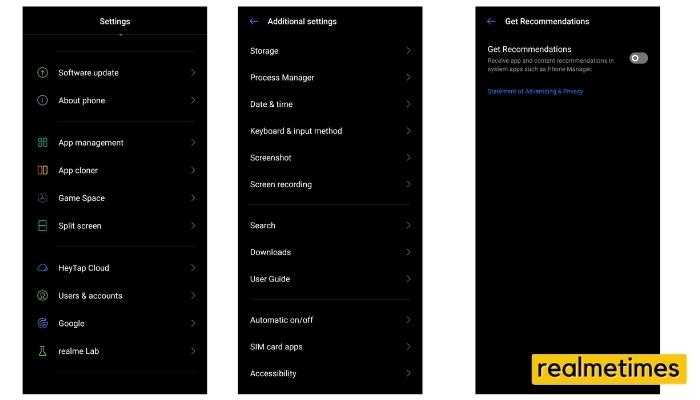 Like other smartphone manufacturers offering smartphones in the same price range, Realme has also started to put up a minimal number of ads or sponsored posts in its software. However, Realme offers an option to disable it. Here's How to disable ads on any Realme smartphone:
Go to Settings -> Additional Settings -> Get Recommendations -> Turn it Off
         6. Check Memory Usage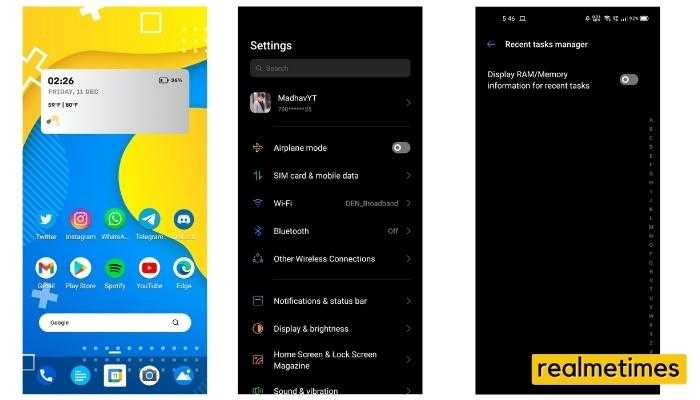 Realme smartphones often tend to use up a large capacity of RAM even while doing a simple task. Now, if you ever wanted to see the amount of free ram available on your phone, you can do that with RealmeUI. Here's how to check memory usage on a Realme smartphone:
Go to Settings -> Additional Settings -> Recent Task Manager -> Display RAM/Memory Information
Next, users can also open the recent apps menu and view the amount of Free Memory available on their phones.
          7. App Lock
If you have some personal information on your phone that you would not like to be seen by anyone, App Lock should be your way to go. App Lock helps by locking a certain app from others, and it can then only be opened by fingerprint or password. To enable this feature, users need to follow these steps:
Go to Settings -> Privacy -> App Lock 
Verify the identity by your fingerprint (if any) or password
Select the app in which you want to enable it.
These were some of the few best tips and tricks you could use on a Realme smartphone, are there any other tricks you use daily? Do let us know by dropping a comment down below.