PUBG Moblie India or Battlegrounds Mobile India (BGMI) is one of the most popular games ever since its launch in India; the game currently has over 16 Million daily active users. To satisfy such a giant regular user base, the game has a great inventory and tons of customization options including skins, outfits, emotes, characters, and even pets. BGMI has a bunch of crazy cool outfits, vehicles, and weapon skins. However, the majority of these cosmetic items are not available for free and to get premium skins and outfits you need to pay via an in-game virtual currency known as Unknown Cash (UC).
If you're interested in shaping up your BGMI inventory like the Pros: Mortal, Thug, Viper, Snax, or any streamer, UC is the first step ahead. Let us take a look at all the possible ways to purchase UC, available offers, discounts, and redeem codes.
Also Read: Best Gyroscope, ADS, and Camera Settings for Battlegrounds Mobile India
What is UC in BGMI? (PUBG Mobile)
Unknown Cash abbreviated to UC is an in-game currency in Battlegrounds Mobile India a.k.a PUBG Mobile. Players may buy in-game cash with real money (paid through online solutions) and spend it on a variety of items in-game. Crates, clothes, gun skins, friends, emotes, accessories, prizes, Battle Pass, vehicle skins, and more may all be purchased using UC.
How to Purchase UC at Lowest Price in BGMI?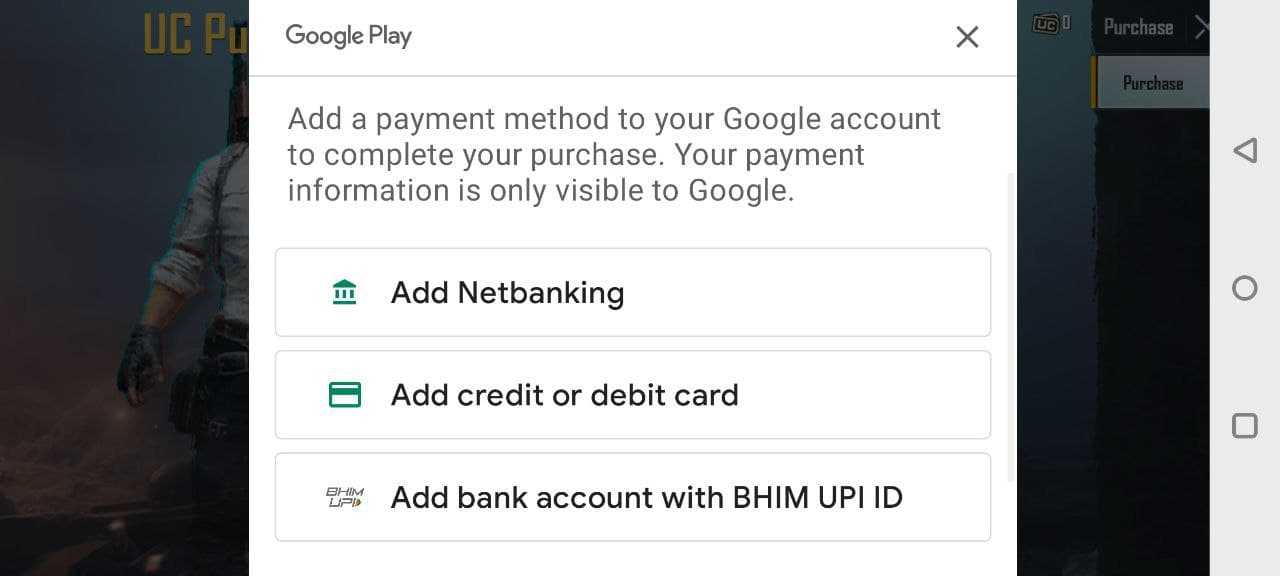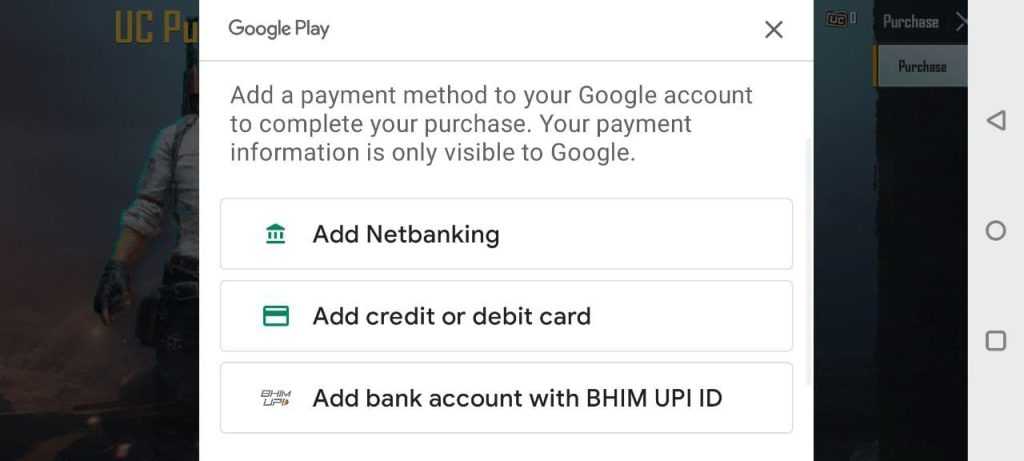 Purchasing UC is a pretty straightforward task. Here's how you can buy UC in-game via BGMI.
Start by launching BGMI from the app drawer.
Next, log in with your connected account, if not done already.
Now, tap on the UC icon present at the top-right corner of the Lobby.
Here, choose from the list of available UC packages.
With this, you'll now be prompted to Google's Payment Service Page, enter your Credit/Debit Card, UPI, or Netbanking details, and complete the payment.
Once the payment is processed, you should notice the UC credited into your account. You may need to restart your game for the changes to come into effect.
How to Get UC for Free in PUBG? List of Offers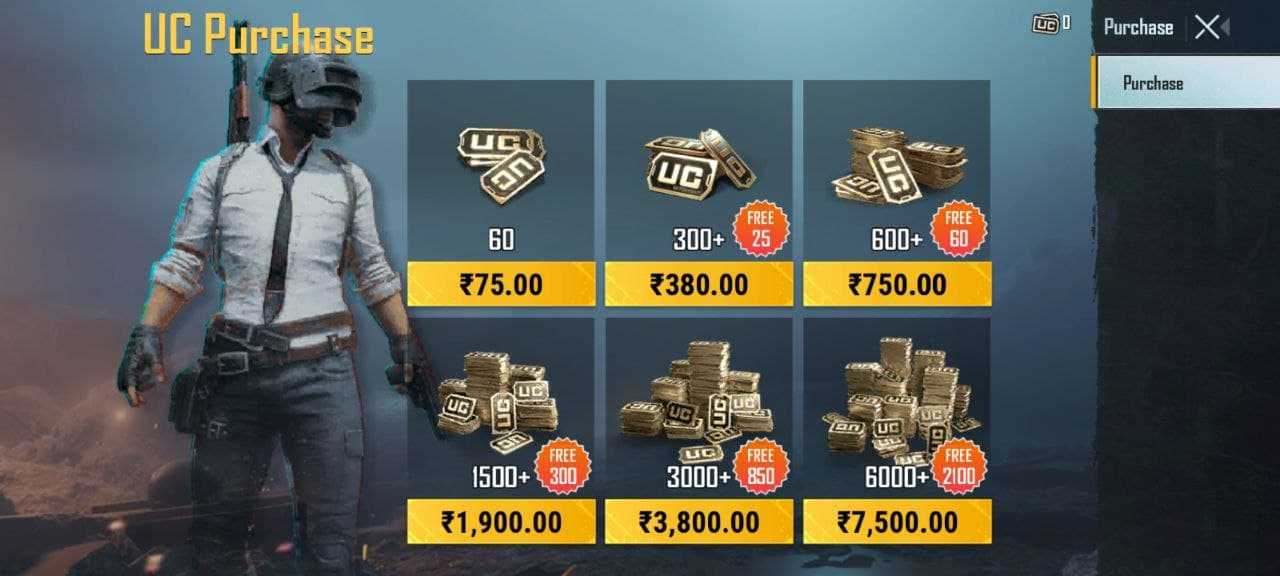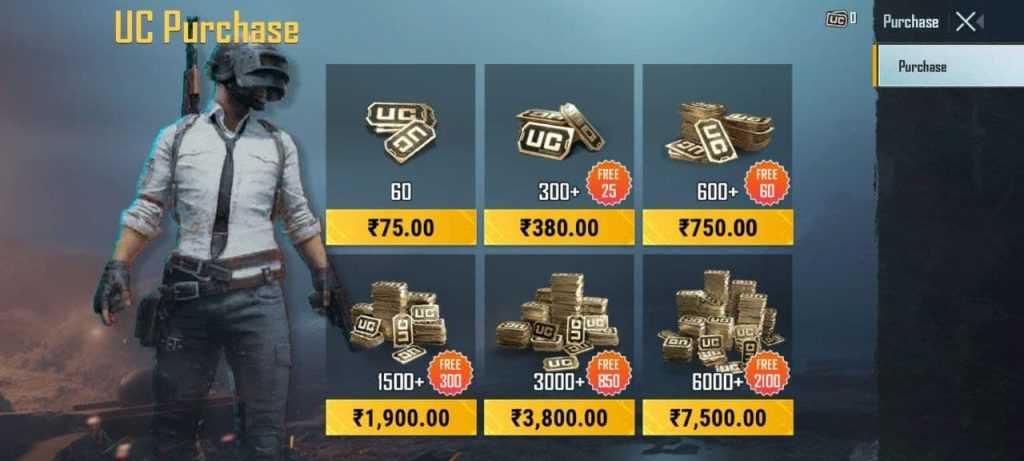 UC has varying prices for Android and iOS users. You can get UC cheaper on an Android device instead of an iPhone. The explanation for the pricing difference has not been divulged by Krafton. While there might be a number of factors influencing platform pricing, we believe the Apple App Store is the most important. In comparison to the Play Store, the App Store must have a higher payment fee. As a result, to maintain the same profit margin on both platforms, Krafton had to raise the pricing on all iOS devices. Here's how much UC costs on an Android device:
| | |
| --- | --- |
| PRICE | UC |
| Rs 75 | 60 UC |
| Rs 380 | 300 UC + 25 UC Free |
| Rs 750 | 600 UC + 60 UC Free |
| Rs 1,900 | 1500 UC + 300 UC Free |
| Rs 3,800 | 3000 UC + 850 UC Free |
| Rs 7,500 | 6000 UC + 2100 UC Free |
The below table lists the pricing for iOS users (including iPhones and iPads). Here's how much UC you get for free with every purchase:
| | |
| --- | --- |
| PRICE | UC |
| Rs 89 | 60 UC |
| Rs 449 | 300 UC + 25 Free |
| Rs 899 | 600 UC + 60 UC Free |
| Rs 2,099 | 1500 UC + 300 UC Free |
| Rs 4,199 | 3000 UC + 850 UC Free |
| Rs 8,500 | 6000 UC + 2100 UC Free |
Apply These 5 Secret Techniques To Get Discount On BGMI UC Purchase
While Krafton provides you free UC advantages if you buy it in-game, there is no discount if you buy it with real money. However, there are a few methods to receive UC at a reduced price without really buying it. You may buy Google Play credit separately from many companies that provide cashback deals, and then use the credits to buy UC in the game. Here's how you can save some cash when purchasing UC online.
Codashop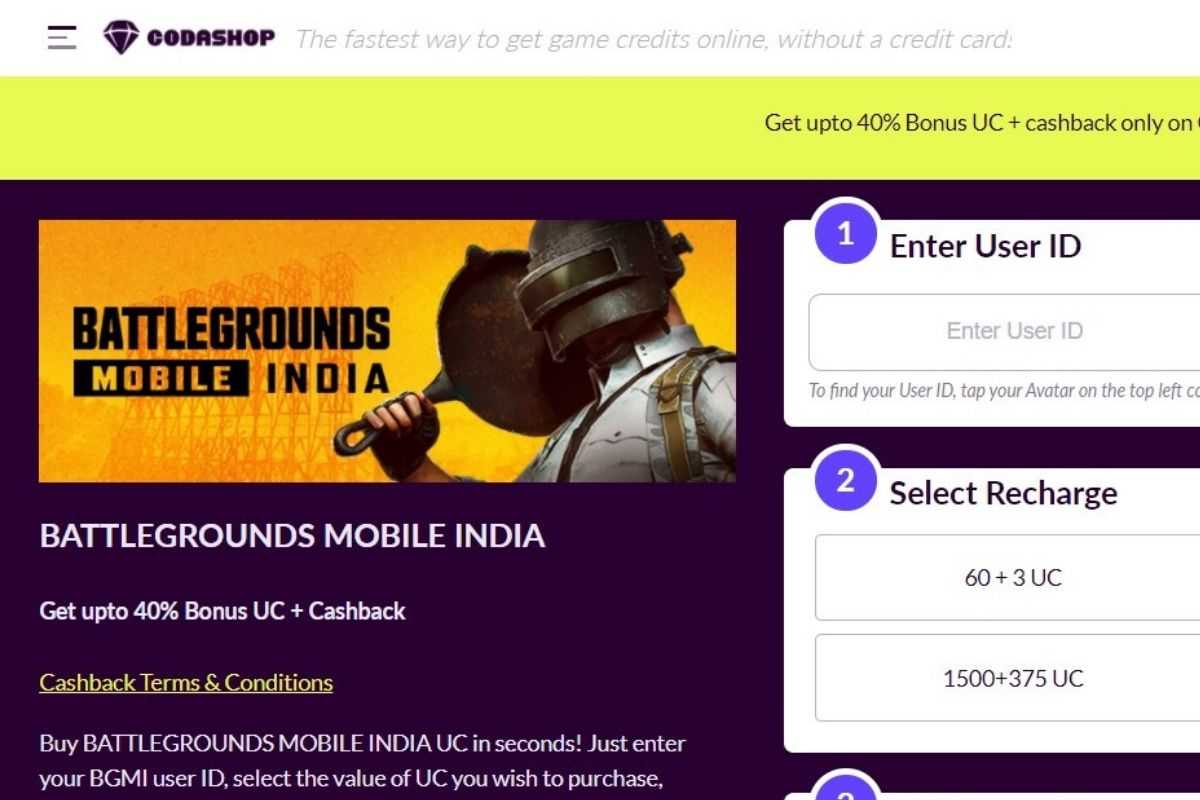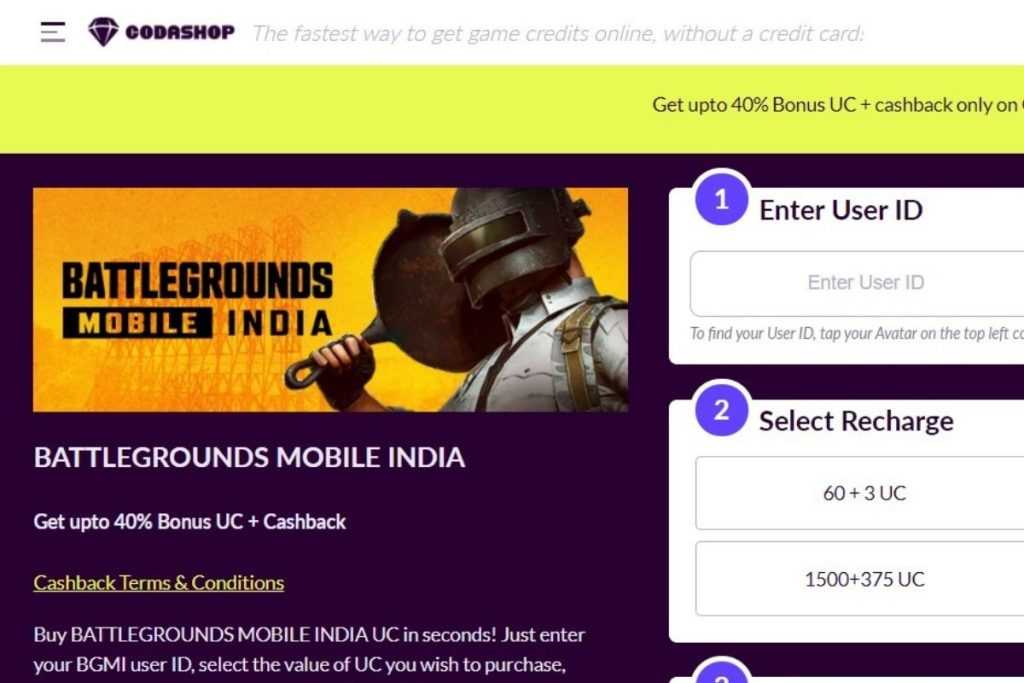 If you want to buy UCs and obtain more than what you can get through the in-game store, the best choice is to go to Codashop and buy Unknown Cash for Battlegrounds Mobile India. Codashop offers UC for the same price as BGMI but raises the number of free UCs by up to 40%. Codashop India is a reputable company that offers a variety of in-game app purchases. It is the ideal location for claiming additional benefits. Here's how much UC costs at Codashop:
| | |
| --- | --- |
| PRICE | UC |
| Rs 75 | 60 UC + 3 UC Free |
| Rs 380 | 300 UC + 40 UC Free |
| Rs 750 | 600 UC + 90 UC Free |
| Rs 1,900 | 1500 UC + 375 UC Free |
| Rs 3,800 | 3000 UC + 1000 UC Free |
| Rs 7,500 | 6000 UC + 2400 UC Free |
How to Get UC for Free in BGMI?
Elite Royal Pass
If you've been following the game for some time now, you'd notice there are three different royal pass plans available, namely Royal Pass, Elite, and Elite Plus. Here's how you can benefit from these:
Royal Pass: This is the free version of the Royal Pass. There are no extra benefits, you complete the weekly missions get the regular rewards as you level up your RP level.
Elite Royal Pass: This version of Royal Pass costs 360 UC, and with this, you will get extra rewards that every Elite Royal Pass users get. By the time you reach the maximum level, all your UCs will be refunded so that you can continue the Elite Royal Pass purchase cycle at no extra cost.
Elite Royal Pass Plus: This is the most expensive version of Royal Pass. You can get it for 960 UC. With Elite Royal Pass Plus, you get additional season exclusive rewards such as an exclusive frame, emote, and other things. However, you only get 480 UC with this which is more than 360 UC but still a lot less than 960 UC.
BGMI provides its players with Royal Pass discount coupons that cut the cost of Elite and Elite Royal Pass Plus by 60 UC, bringing the total cost of Elite Royal Pass to 300 UC. When you reach the highest level, you will receive 360 UC for free. As a result, every time you use a discount code to buy Elite Royal Pass and achieve the highest level, you will get 60 UC more than you paid.
Google Opinion Rewards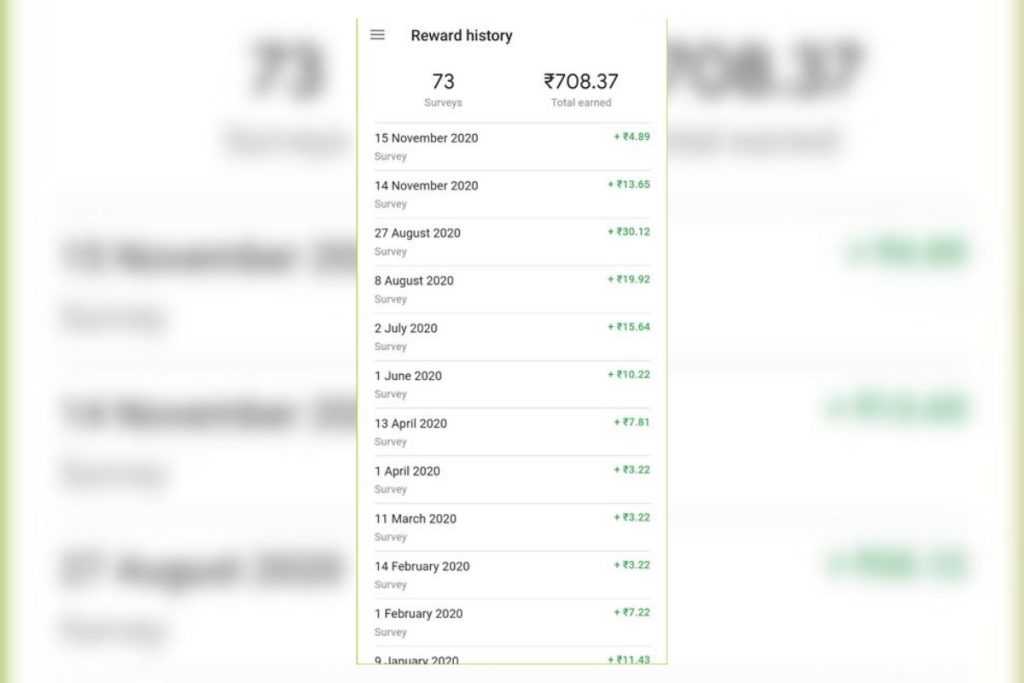 On Android, whenever you make a UC purchase in the game itself, you get several payment options to choose from and pay. You can either use a debit/credit card or you can use the funds in your Google Play account that you might have added using a gift card/voucher. Did you know that you can load money into Google Play without spending anything from your pocket and use it to purchase UC in BGMI?
Google has a program called Google Opinion Rewards, which rewards users for completing surveys. The application asks you questions about the places you travel to and rewards you for answering them, whether it's about a specific location or your daily routine. Google will deposit your rewards (money) into your Google Play store account, and you will be able to purchase UC in BGMI with the revised balance. If you want to get more surveys, keep this app and location services on your smartphone with you everywhere you go, and new surveys will appear more regularly.
BGMI Redeem Codes
Using redemption codes is one of the simplest ways to earn free UC in BGMI. Former PUBG Mobile players must be aware that Krafton distributes redemption codes that may be used to gain UC. These codes are normally provided by the game's creators. This is something that the makers of 8 Ball Pool perform on a weekly basis. To redeem the codes, go to the BGMI redemption page, type in your character ID, redemption code, and then click on Redeem. To obtain the prize, launch the game, go to the mail area, and click on the mail connected to it. Do not fall for the traps set by bogus redemption code producers; they might steal your identity and cause you to lose all of your gaming data.
Crew Challenge
Crew Challenge is a game mode in which members of two crews compete for the UC, with the winner receiving it for free. It's a location where you may earn UC by playing and winning games. Crew Challenge, on the other hand, is only accessible in PUBG Mobile and not in BGMI. However, there have been rumors that Crew Challenges may be coming to BGMI shortly. So, if you want to acquire UCs for free, strive diligently in BGMI's Crew Challenges.
BGMI UC Benefits
Below is a list of some of the goodies one could exchange for UC in BGMI (PUBG Mobile).
New Outfits
New skins
Weapons
Elite pass
Crates
Royal Pass
Recon Mask
Hats
X Suits
Parachutes
Emotes
Rename Cards
What to Do if Money Is Debited From My Account, but UC Isn't Credited?
You must be concerned if you purchased BGMI UC and it does not appear on your Battlegrounds Mobile India account. It might be a developer's bug, or your transaction may have failed at the Play Store. You can write Krafton an email expressing your dissatisfaction with the UC purchase not being credited to your account. To do so, write an email to battlegroundsindia [email protected] In the body, ensure to include your nickname and character ID, as well as a snapshot of the payment receipt.
That said, what do you intend to spend your UC on? Do let us know by dropping a comment down below.