Telegram is a free and open-source, cross-platform, cloud-based messaging service. The messaging service is available on most platforms including Windows, iOS, macOS, Linux, Android, and also the Web. The service provides end-to-end encrypted messaging, video calling, VoIP, file sharing, and several other features. The application is fairly popular in countries such as India. The crowd happens to have taken a shift to the service during the Whatsapp Ban movement in the country.
Now that you understand why the application is growing in popularity, Telegram also offers a ton of handy features that aren't available with the competitors such as Whatsapp. Let's say you have a video to send to your friends or family, however, you'd like to trim the video and remove certain parts of the clip, Telegram's built-in video editor can help you do so. This post will guide you on How to Quickly Edit Videos for Telegram on Realme Smartphones.
How to Quickly Edit Videos for Telegram on Realme Smartphones
Here's a fairly easy guide using which you can quickly edit videos for Telegram on your Realme smartphones.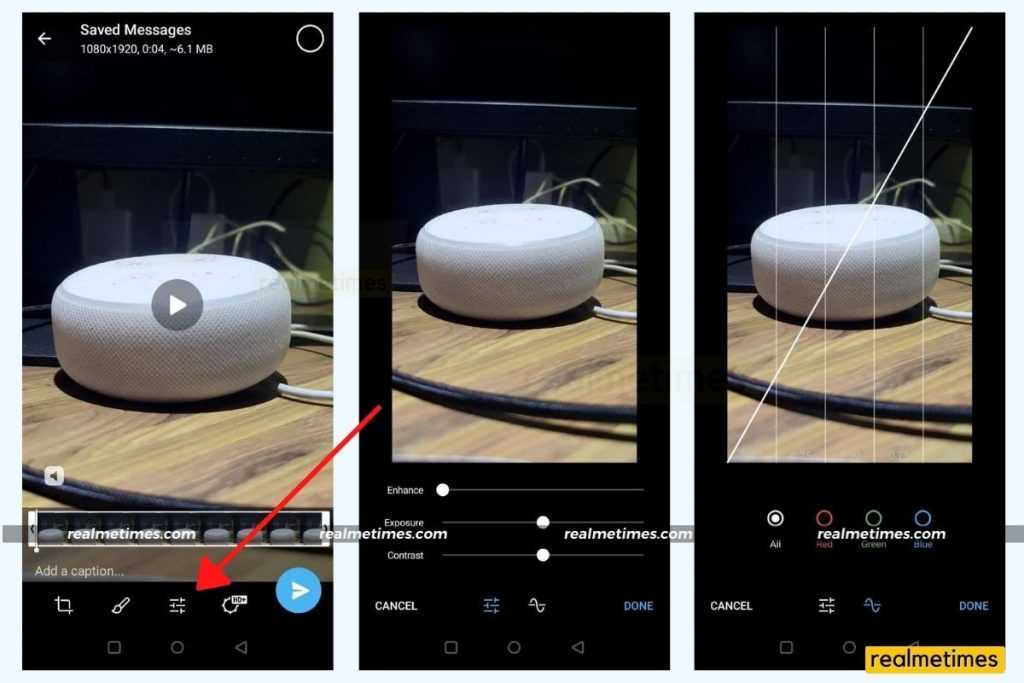 Start by launching Telegram on your smartphone.
Next, open the Chat Conversation, to which you'd like to send the video.
Now, tap on the Edit-like present at the bottom.
This will bring up the Video Editor.
Users can now adjust saturation, contrast, exposure, and make other adjustments. You will also get an RGB graph for advanced color adjustments, which is fantastic for a messaging application.
Alternatively, users can also make use of the built-in video editing application named Soloop which is available on Realme smartphones. The tool offers a variety of features that could come in handy in instances.
That said, do let us know your thoughts on the same by dropping a comment down below.