Garena Free Fire is currently one of the most anticipating games on the Android platform. The battle royale game has become quite popular in India lately. Battle Royale games bring tons of features and interesting gameplay for players. While the huge amount of items such as skins, outfits and other customization features are key factors behind the popularity of the Garena Free Fire, the best part of Garena Free Fire is it is compatible with the majority of Android devices. It doesn't matter if you have a budget smartphone or a flagship, Free Fire will run smoothly on any android smartphone. This flexibility has paved the way for the game to become the only battle royale game in the market that has reached 1 billion downloads.
Despite this, some players choose to play the game first before downloading it to their Android handsets for a variety of reasons, including the famed lack of storage issue. In order to achieve this, the creators have developed a brand-new approach to playing Garena Free Fire online without downloading it to your smartphone. In this post, we'll demonstrate a workaround so you can play Free Fire without having to download it on your phone.
Also Read: Best Free Fire Guild Name List: 300+ Unique and Stylish Free Fire MAX Names for Boys and Girls, How to Change
What are Google Play Instant Apps?
For those who are not aware, Google has launched a new programme for Android users known as the Google Play Instant Apps programme. This program can be found on your Android smartphone or tablet in Google Play Store. This programme basically allows the developers to showcase their apps on the Play Store. Users can try the applications online before installing them on their devices. The feature was earlier limited to certain applications, however, Google made some changes and brought this programme to the gaming category as well.
The primary benefit of Instant games is that consumers may test them out without having to install anything on their smartphone or tablet. If a user does not enjoy the game, they can exit without having to worry about running out of storage space on their smartphone. This can save a lot of time and data for people who have metered connections or access to restricted bandwidth. Previously, this was not feasible because downloading an app or game was required in order to enjoy it. Garena Free Fire's inclusion in the Google Play Instant Apps programme is fantastic. This may motivate creators of additional major titles to enrol their games in the Google Play Instant Apps Program.
How to Play Free Fire Game Online Without Downloading
Even if it seems absurd, absolutely! Free Fire may be played without downloading. The game has joined the Google Play Store's Instant app programme. This implies that you have the option to play Garena Free Fire online prior to downloading the game. But keep in mind that this is merely a demo and not the entire game. To help consumers decide whether to play the game or not, the demo essentially provides an overview of the gameplay and other features. Here's how to play the Free Fire game online, without having the need to download it on your smartphone.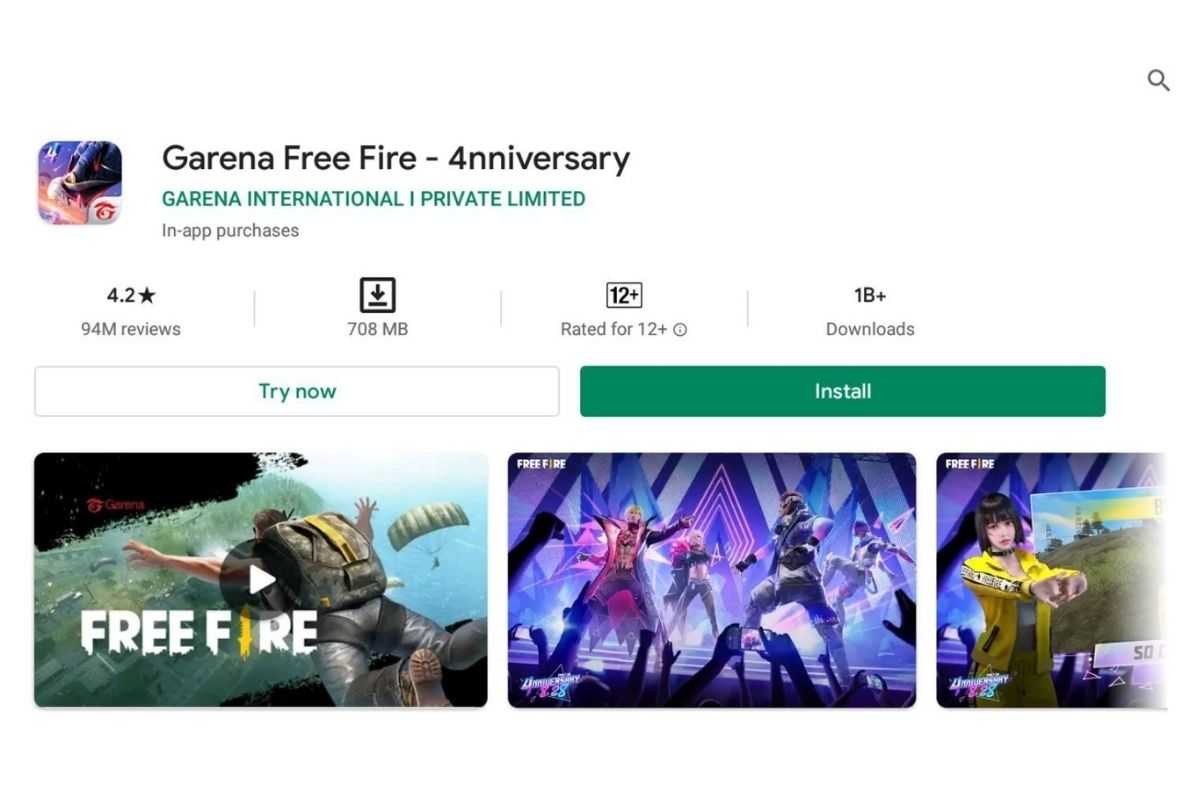 Start by opening the Google Play Store application on your Android smartphone or tablet.
Next, search for Garena Free Fire via the search box. Alternatively, you can also click on this link to directly take you to the app page.
Now, you should notice two options, namely, Try Now and Install.
If you'd like to try the game without downloading it, tap on the Try Now option and you will be able to play the demo version of the game.
On the demo version, players will face off for around two minutes in a tiny arena terrain versus six robots (Bots). To win the game, you must get rid of every single one of them. After trying out the sample, you may choose to get the full version of the game. It is crucial to keep in mind that the game's download size is around 716 MB. Therefore, in order to install the game, you must have at least that much storage.