Realme 8, the company's mid-range smartphone, is in the news once again. A Twitter user named Gourab Kumar Pany claims that his Realme 8 caught fire and exploded in his pocket. This isn't the first time an incident has been reported where a realme smartphone was allegedly involved in a blast. Let's have a closer look at the Realme 8 explosion news.
Update: We have reached out to Realme India for a statement. We will update the story as soon as we receive a response.
Realme 8 Explodes in a Man's Pocket
The image shared by Gourab reveals that the device is completely damaged from the and back. RealmeTimes did try reaching out to the user but, we were not successful. However, a point here to be taken into account is the fact that there have been several explosion incidents lately, where some of them did turn out to be false claims. The phone's rear appears to be completely damaged around the battery area indicating some or the other issue with the battery.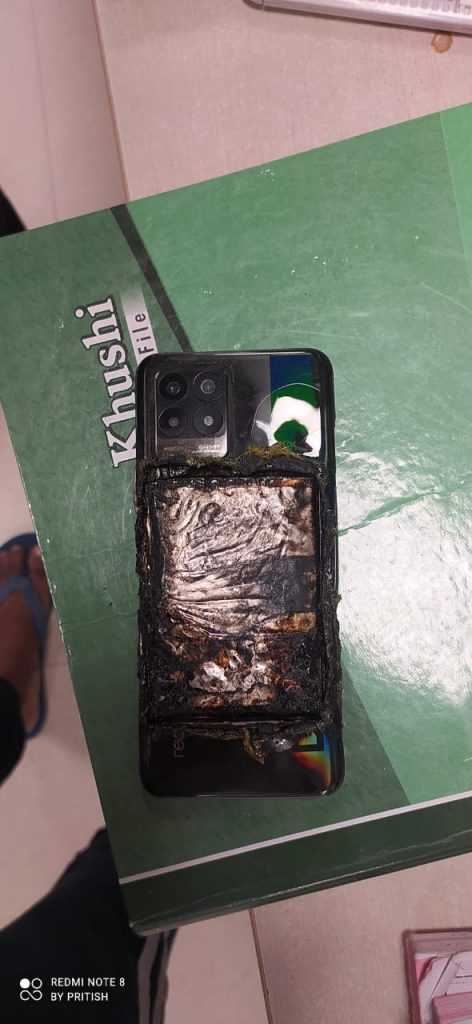 Of course, this isn't the first time we've heard of a smartphone exploding owing to a battery problem. The Samsung Galaxy Note 7 explosion received the most attention, but phones from Realme, Xiaomi, Jio, and even Apple have had battery explosions in the past.
That said, the realme 8 features a 6.4 inches Super AMOLED display and is powered by the Mediatek Helio G95 SoC. There's a 5,000mAh battery with support for 30W fast charging.
We are following the current Realme 8 explosion story closely and are try trying to get in touch with Gourab as well. We shall update the story where there's a new development.