Realme, one of the fastest-growing smartphone brands in India; has surpassed the growth rate of some of the biggest brands in the country taking the likes of Xiaomi and Samsung. With a great user community, huge customer support and some of the biggest R&D centres owned by Oppo, Realme is a brand with some tricks up on its sleeves. While Oppo targets offline markets and premium consumers, Realme is more of an enthusiast brand that targets the online market and delivers an excellent price to performance ratio.
Realme smartphones inherit a lot of features and technologies from its parent company Oppo. One such less known feature in their smartphones is the OSIE Vision. In this post, we will take a look at one such less known feature: OSIE Vision Effect with realme UI, what it is, how to use and what it does.
What is OSIE Vision Effect?
OSIE vision effect stands for Object and Semantic Images and Eye-Tracking Vision Effect. OSIE takes use of Artificial Intelligence to improve the content consuming experience in supported applications such as YouTube for Android, Netlfix, PUBG Mobile and more such applications. While the name Object & Semantic Images and Eye-tracking vision effect is quite complicated, the function of this feature is very simple: It enhances the viewing experience of a user by dialling up certain things such as contrast and saturation to provide better multimedia results and enhanced visuals while gaming.
OSIE Vision effect is core functionality in making your picture quality look better than usual. The key advantage of the OSIE vision effect is while increasing the picture quality, it preserves the user's eye health and keeps the eyes healthy.
How to Enable OSIE Vision Effect in realme UI
OSIE Vision effect feature is exclusively available only on Oppo and Realme smartphones; implying that if you have any other Android smartphone you're missing out on this feature. Here's where you can find the OSIE vision toggle and enable the feature.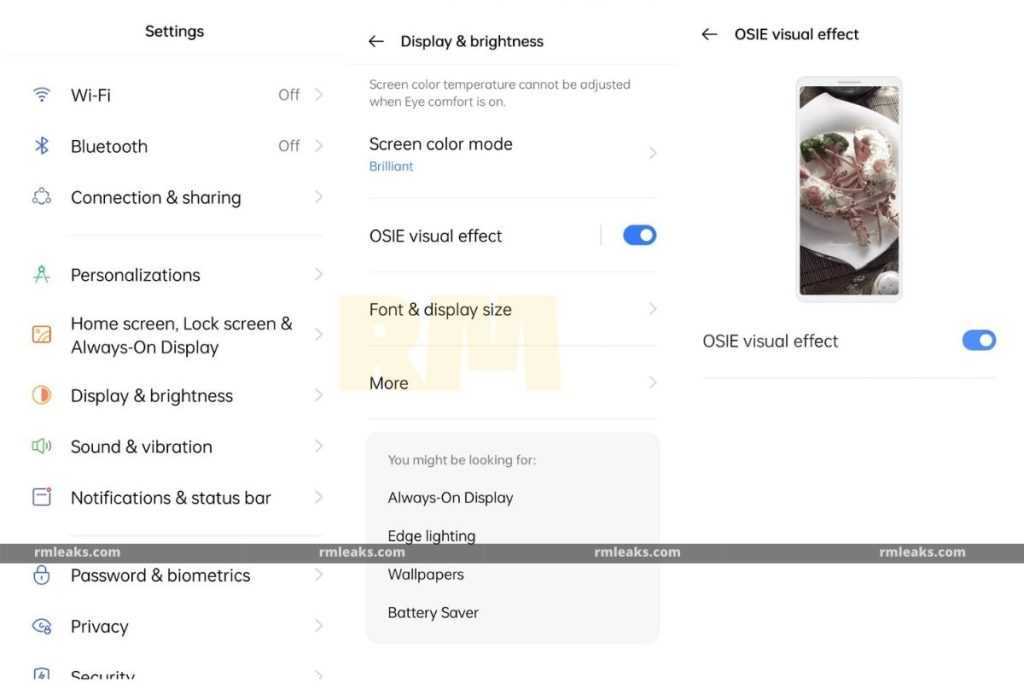 Start by opening the Settings application.
Next, navigate to Settings > Display and Brightness section.
Now, scroll down and tap on OSIE Vision effect or OSIE Visual Effect and turn the toggle ON.
With this turned ON, you're all set. While it is super easy to turn this feature on, do note that you won't be able to notice an immediate effect and the feature supports a very limited number of applications for now. You can see the difference in the visuals of your display by toggling it on and off. There's a little catch to this feature. Sometimes, it disables automatically after a shut down of your device hence keeping a check on it is always a good idea.
What is important to remember is the OSIE Visual effect does care about your eyes but it is always advisable to don't use screens for too long. It doesn't reduce the blue lights but it improves the visuals without putting extra strain on your eyes.
List of Realme Applications Supporting OSIE Vision effect
Users will not be able to take complete advantage of the visual effect unless they've allowed the operating system to take over installed applications. Hence, to get the best experience of this feature, it is advisable to run it with the supported apps. Here's a list of all the applications that support the OSIE Visual effect.
YouTube
PUBG or BGMI
Free Fire Mobile
TikTok
Facebook
Instagram
Snapchat
Realme Photos
Google Photos
That said, do you notice a significant difference with the feature turned ON compared to when switched off? Do let us know by dropping a comment down below.