Realme and Oppo's Omoji is the company's take on Apple's Memoji function. With Omoji, users may make personalized face emojis to reflect their personality, and these Omojis adapt to changes in your facial emotions in real-time. While the execution isn't as slick as Apple's because it just employs the front-facing camera instead of IR emitters like the iPhone, it is still a great feature available on Realme and Oppo phones with Android 12 based realme UI 3.0 or ColorOS 12. This post will take a look at the Omoji Avatar feature, what it is and how you can use it.
What is Omoji Avatar in ColorOS 12 and Realme UI 3.0?
Omoji is a brand new 3D emoji concept that enables users to build unique avatars and is a fun new feature in Android 12 skins. Omoji scans your head movement with the front camera and overlays an avatar. Users may customize the avatar to their heart's content, and after it's set up, you can pick a backdrop, snap a photo of it, or make a movie in which it mimics your head movement.
Oh, and if one's so inclined, one can also turn Omoji to always-on mode on the lock screen. Video calls, AOD (Always On Display) styles, and more may all be done using OMOJIs.
How to Create Your Own Omoji on Realme and OPPO Smartphones
Creating a new Omoji is quite a simple process and can be accomplished in under a minute. Users can tweak the fun avatars to their liking. Here's how you can create a new Omoji.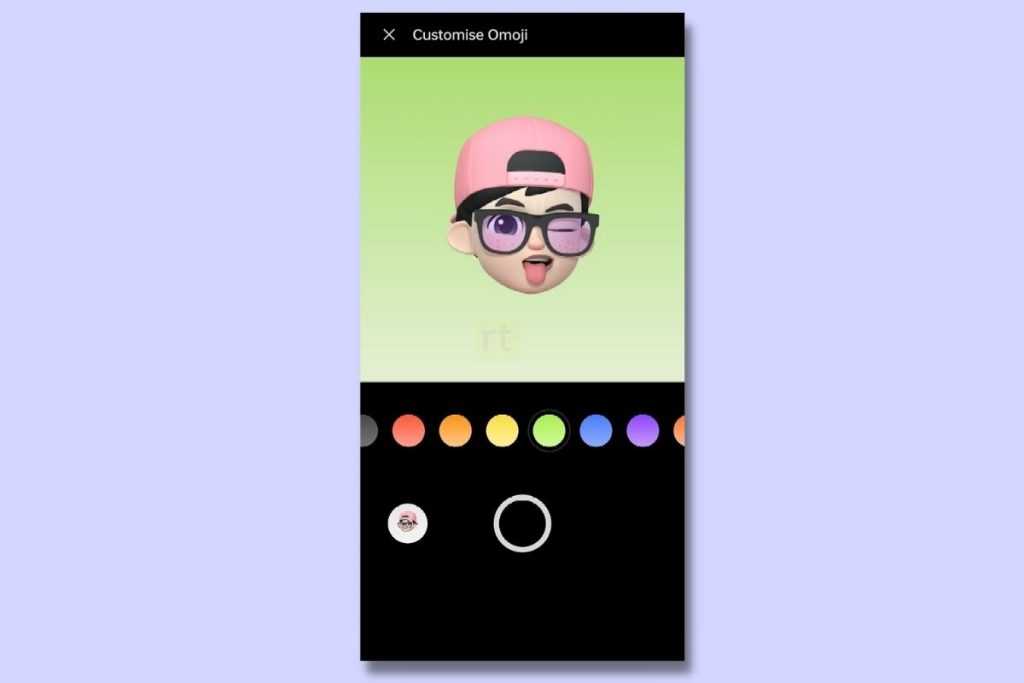 Users get two options to get started with, they can either create a new avatar completely from the scratch by picking from the list of options, or they could either scan their face and let the AI automatically create an Avatar.
How to Use Omoji
Once you've got Omoji installed on your realme/Oppo device, here's how you can proceed to create a new Omoji Avatar in realme UI 3.
Begin with opening the Omoji application from the App Drawer.
Next, tap on the Create button to enter the Edit Mode.
Here, customize your avatar by choosing between your favorite elements from over 10 categories.

Skin
Head
Hair
Eye Brows
Eyes
Nose
Mouth
Ears
Headwear
Glasses

Finally, make adjustments to the color elements and tap on Save.
You can follow the same process mentioned above to create as many Omoji avatars as you like.
How to Use Shot on Omoji
Now that you've got an idea of what Omoji is, let's step up the game. Here's how you can use your front-facing selfie camera to capture a beautiful Omoji.
Start by clicking on the Use Omoji button and tap on Shot Omoji.
Next, Aim the selfie camera towards your face at the right angle.
Make funny faces and express yourself however you want.
Check out the preview and make adjustments.
Finally, choose the background color and shoot a new image. You could also hold down the capture button to record a video for up to 30 seconds.
With that, you should find your Omoji saved in your galley. That said, wasn't that simple? Do let us know by dropping a comment down below.
FAQs
1] Is Omoji Avatar Available on All Realme and Oppo Smartphones?
Omoji will be available with all smartphones from Realme and Oppo either running Android 12 based realme UI 3.0 or ColorOS 12. In short, the feature is available on all devices running Android 12 skins. Here's the list of all devices eligible for the realme UI 3.0 update.
2] How is Omoji Different from Apple's Memoji?
While Apple's Memoji makes use of the front-facing camera and the IR emitters housed in the notch on an iPhone, realme's Omoji just makes use of the front-facing camera and thus lacks out accurate head tracking.