Tired of heading over to speed test applications such as Ookla, FAST, Internet Speed Test Meter and more, to check out your network speeds every single time? Realme offers a simple setting available with your device that lets you monitor your network speed in the status bar. Isn't that cool?
Well, Android is a very well customizable smartphone OS, that has a lot of flexibility. Whenever you download or stream anything on the phone, the network speed indicator will show you the real-time speed in KB/s regardless of whether you are connected to a Wi-Fi network or using Mobile Data. The status bar of your browser will tell you how fast your internet is when you are downloading something. This post will guide you on the process of enabling the network speed indicator on any Realme smartphone.
Also Read: How to Check Internet Speed on Your Realme (Android) Smartphone
How to View Network Speed in the Status Bar on Realme Smartphones
Realme smartphones at the very beginning ran on the ColorOS platform, which was later migrated to realme UI. Both the operating systems offer a ton of features including Dark Mode, Always on Display and more. However, the option to turn on the network speed in the status bar varies with the operating systems.
1] For users on ColorOS and Realme UI 1.0
Here's what you need to do to turn on network speed in the status bar for devices running on ColorOS or Realme UI 1.0.
Open the Settings application and navigate to Notifications and Status Bar.
Next, turn ON the toggle for Real-Time Network Speed.
2] For users on Realme UI 2.0
If you're rocking a smartphone running realme UI 2.0 or later, here's what you need to do to enable internet speed in the notification bar.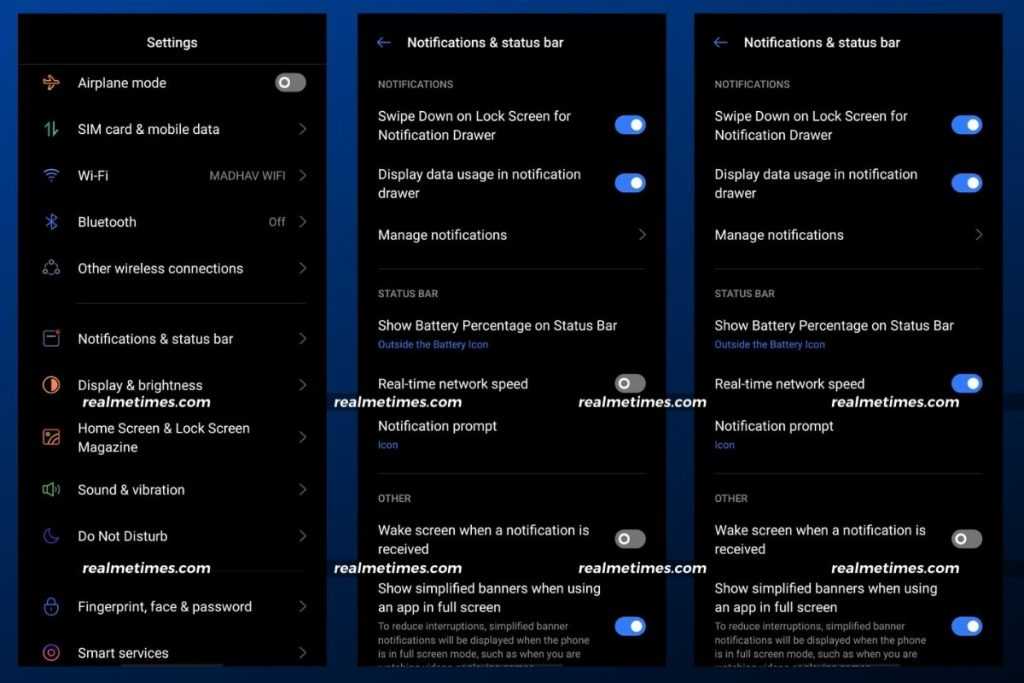 In the Settings application, navigate to Notification and Status Bar.
Here, turn on the option for Real-time network speed. You also get the option for displaying Data Usage in the Notification Drawer on the same page.
That said, do let us know your thoughts by dropping a comment down below.