An IMEI number has various use cases and could come in handy in multiple instances. For example, it is recommended that before you purchase a used phone, you should know exactly what you're buying. Third-party vendors sometimes sell used phones that have been reported stolen or locked previously. If you're wondering what it is, think of it as a unique 15-digit number for your phone,  as your phone's fingerprint.
Also Read: How to Quickly Edit Videos in Telegram on Realme Smartphones
What is an IMEI number? What does it do?
IMEI stands for International Mobile Station Equipment Identity and is used to tracking your smartphone or tracking the activities of your smartphone in case of emergency. It is a unique 15-digit number for your phone, so think of it like your phone's fingerprint. IMEI numbers are shared between phone carriers and manufacturers to allow tracking of stolen or compromised smartphones.
If your smartphone has cellular connectivity, it will have an IMEI number. A dual SIM smartphone will have two different unique IMEI numbers since it has dual cellular connections. An IMEI number is also required during exchanging smartphones online. In this post, we have compiled a list of few simple steps to check the IMEI number of your realme mobile phone or any Android device in particular.
How to Find IMEI Number of Realme Mobile Phones
We've listed out the most convenient ways using which one can realme warranty check IMEI numbers on smartphones or DIZO feature phones.
Use the Stock Phone/Dialer Application
Find IMEI Number from Settings
1] Use the Stock Dialer Application to Check IMEI Number:
USSD codes are the easiest and fastest way to determine the IMEI number of a phone from any brand, including Realme, Xiaomi, Mi, Samsung, OPPO, OnePlus, Vivo, iQOO and even Apple a fact. One of the best aspects of this method is that it's a universal USSD code, so it works with almost all smartphones and feature phones. The following is how you can check an IMEI number by using a USSD code.
Start by opening the Stock Dialer/Phone application.
Key in and dial *#06# on your phone dialer.
Once you press the above-mentioned code, you'll find the IMEI number popping up on your screen.
2] Find IMEI Number from Settings
This simple method of determining the IMEI number of an Android smartphone can be used if you do not have your USSD code.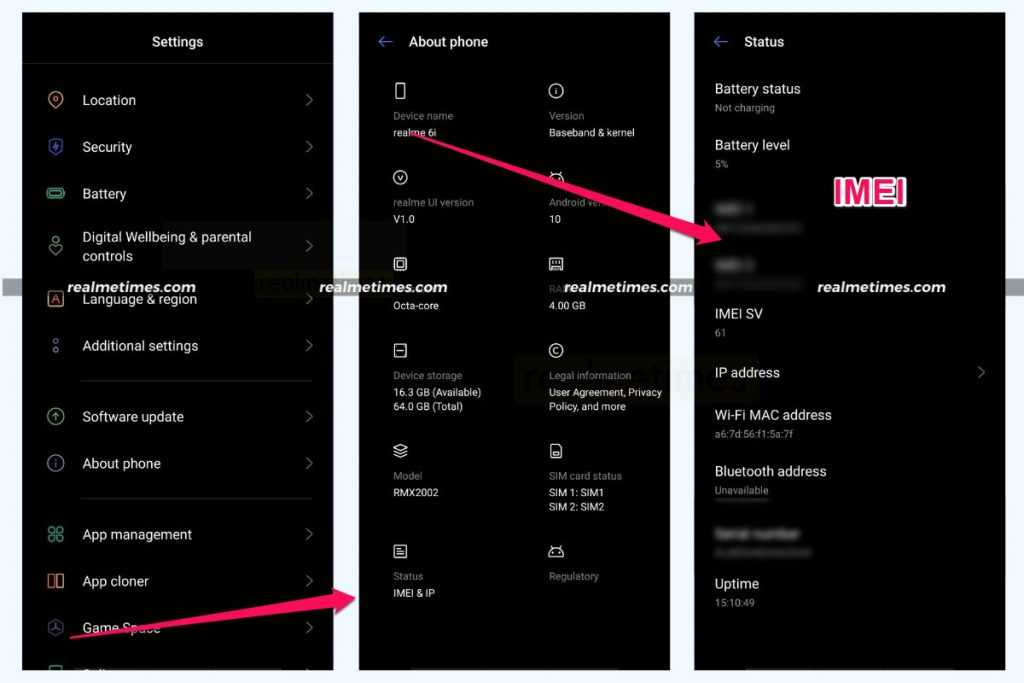 Open the Settings application and navigate to the About Phone section.
Next, click on Status IMEI & IP section.
With this, you'll now be able to see and check your IMEI number on your screen.
Precautions:
Never share your IMEI number with any unknown person.
Never try anything weird with your smartphone that may lead to your IMEI number getting disappeared, such as clearing the NVRAM partition.
Is it possible to Change or Modify the IMEI Number of your Realme Smartphone?
No, you can be penalized if you attempt to change the IMEI number of your smartphone by any means. IMEI is allotted by GSMA authorities and is unique to each device. Tampering with the IMEI number is a punishable offence according to the Indian government. A person caught tampering with the IMEI number can spend about three years in prison.
How to know whether the IMEI number is unlocked or not?
For Realme and DIZO users, start by gathering information on your device's IMEI number by following the above-mentioned steps and then key in the IMEI in an IMEI tracker online. The tracker might be able to help you check whether your Android phone is unlocked or not.
How to Check the IMEI activation date for Realme Phones?
We hope this post was able to help you with information about realme warranty IMEI check. Do let us know your thoughts by dropping a comment down below.