Facebook is a fantastic way to interact with others without having to physically interact with them. The social media platform has become a vital part of our life since we tend to obtain all of the information we need about our dear ones, classmates, family, and other members of our circle of acquaintances through the platform. The disadvantage is that as a result, it becomes a target for stalkers. Stalkers that continuously scan your profile for new information, unwelcome persons who download your profile photographs to build phoney accounts, and other similar situations are all too common.
As a result, the business recently developed a new safety feature called Facebook Profile Lock to try to combat this problem. Users will be able to exert greater control over their profiles as a result of this functionality. For people who wish to entirely conceal their online identity from strangers or stalkers, this function is quite beneficial. In this post, let's take a look at how you can lock your Facebook profile on Android, iOS, as well as on the web.
Also Read: Snapchat Tips: How to Change Account Username in Snapchat?
How Does Facebook Lock Profile Work?
Facebook has implemented a new security feature known as profile lock, which is intended to increase user safety. The feature allows users to restrict access to their profiles to persons who are not already on their friend's list by selecting the appropriate checkbox. The profile of a user who has locked his or her profile will no longer be visible to anyone who is not on the user's friends list. They won't be able to download their profile or cover photos from the website, however. Users would also be unable to access photographs and posts, according to the company.
Furthermore, they will be unable to view the Stories that a user has posted on his or her profile. On top of all of that, when you lock your profile, it automatically converts any posts that have already been shared from the public to friends. The timeline review, as well as the tag review, are both enabled. This means that before tagging you in their posts, others will need to ask your permission. Consequently, only a portion of their About information will be shown to everyone visiting their profile website.
How to Lock Facebook Profile on Android and iPhone (iOS)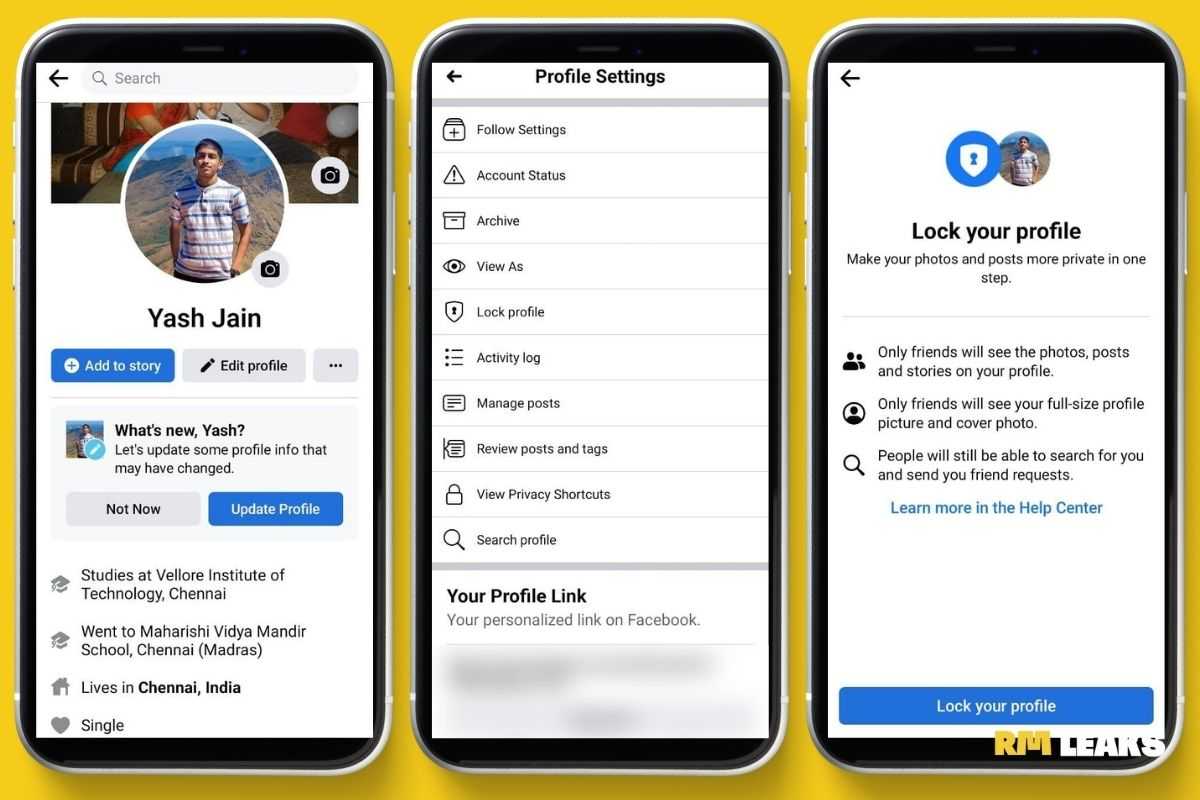 Here's what you need to do to keep stalkers away and lock your Facebook profile on Android and iOS devices.
Log in to your Facebook account using the Facebook Mobile app.
Select Add to Story from the drop-down menu accessible by selecting the three-dot menu sign in your profile section.
You should now see a Lock Profile option appear. You'll be redirected to the appropriate menu if you tap on the same.
The following page will provide you with a rundown of how it works, as well as the option to Lock Your Profile at the bottom.
You should see a pop-up notice that says 'You Locked Your Profile' once you tap it.
How to Lock Facebook Profile on Website (Web)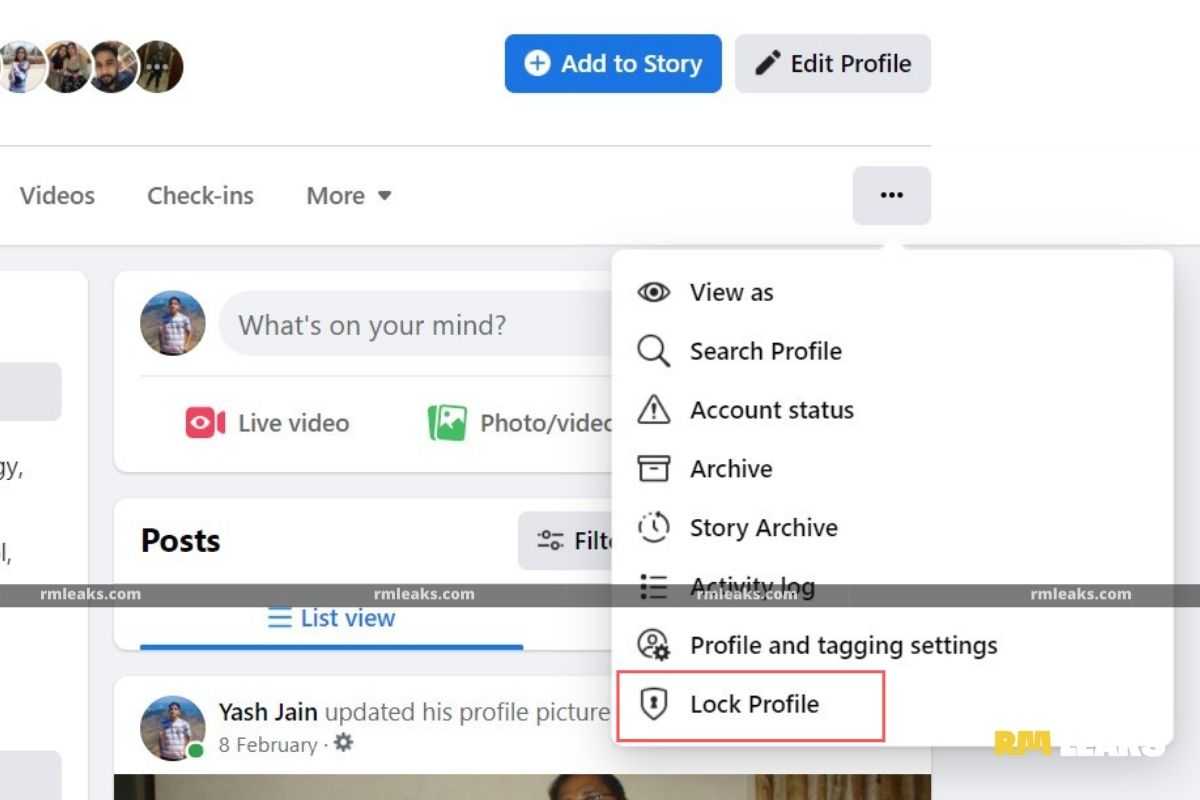 You can also easily lock and unlock your Facebook profile from its web application. Here's how to do so:
Visit https://www.facebook.com/ to get started.
Navigate to your profile after logging in to your account.
Now, select Lock Profile from the three dots symbol located underneath the Edit Profile area.
You'll be notified of the revisions and asked for permission; grant it, and you're set.
Also Read: How to Download, Save and Share WhatsApp Status on Realme phones
How to Unlock Your Facebook Profile?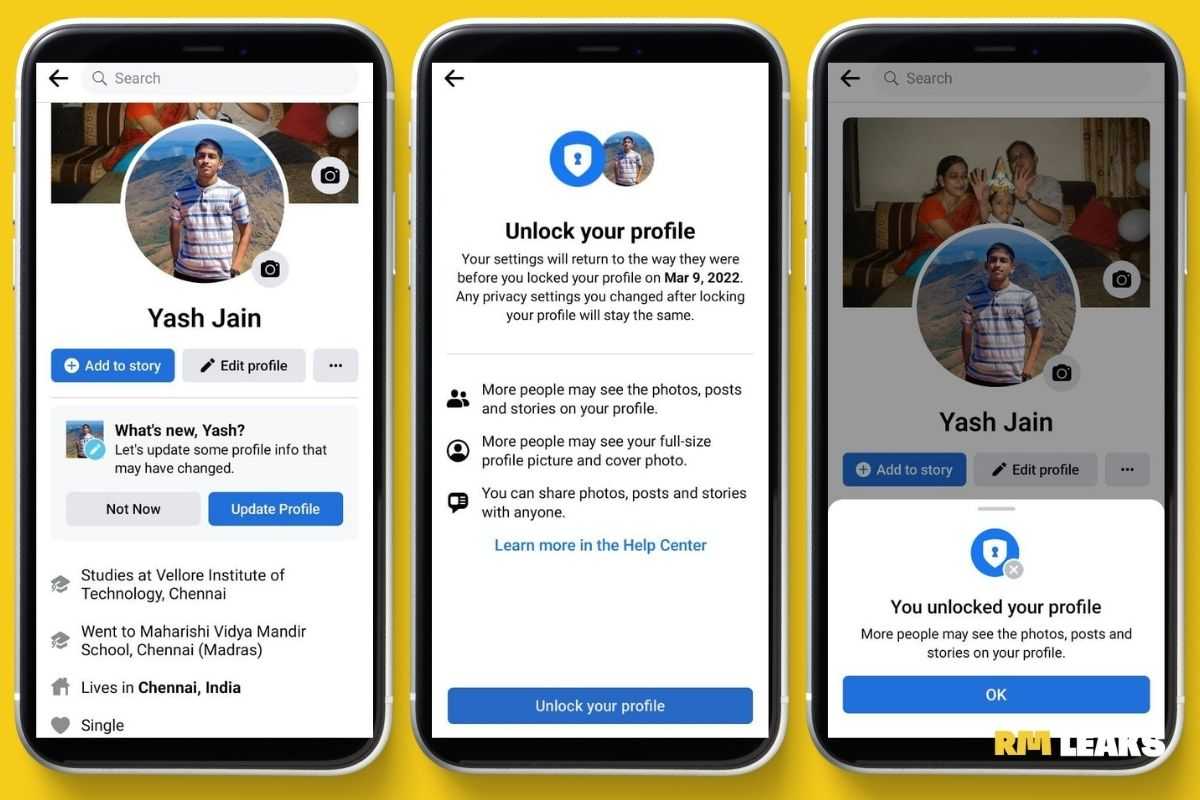 If you wish to unlock your Facebook profile, the procedure is the same whether you are using the mobile app or the desktop version. Follow these steps to unlock your profile.
Head over to facebook.com or login into the Facebook application.
Next, navigate to the Profile section and click on the three-dotted hamburger menu.
Choose, Unlock your Profile, provide confirmation and you're good to go.
Frequently Asked Questions (FAQs)
What Changes Occur To My Profile Pictures, Cover Photos and Feature Photos When the Profile Is Locked?

When a person locks his or her Facebook profile, only people in his or her friends' list will be able to view the pictures. People who aren't on your friends' list will see a scaled-down version of your profile and cover photo. Note that everyone will be able to see the current profile and cover photos, but they will not be able to open or download them.

What Changes Occur To My Posts, Photos, Albums, and More Once the Facebook Profile Is Locked?

Once a Facebook profile is locked, only their respective friends may see their profile posts, images, albums, and stories. Public posts are no longer possible from a user's profile. The same rules apply to images, albums, and stories.
On Facebook, a closed profile is a useful security feature that provides users greater control over the administration of their profile and the material they post on the social networking site. Locking their Facebook accounts is important to secure users from possible security threats from strangers.