Realme has started accepting applications for Realme UI 2.0 Beta on the Realme 6. To recall, the  Realme 6sports the MediaTek Helio G90T, a 6.5-inch 90Hz Full HD+ IPS LCD display, a 4300 mAh Battery with 30W fast charging, and much more. The device was launched with Realme UI 1.0 (Android 10) onboard.
The Realme 6's Android 11 based Realme UI 2.0 Early Access update was scheduled for January and fulfilling the promise, the company has now started accepting applications for the same. The early access users will be the fortunate ones to experience the whole new experience of Realme UI 2.0 based on Android 11 at the earliest, which brings an awesome level of customization, optimizations, and security with a beautiful essence of vanilla Android.
How to Apply for Realme 6 Early Access Beta Application: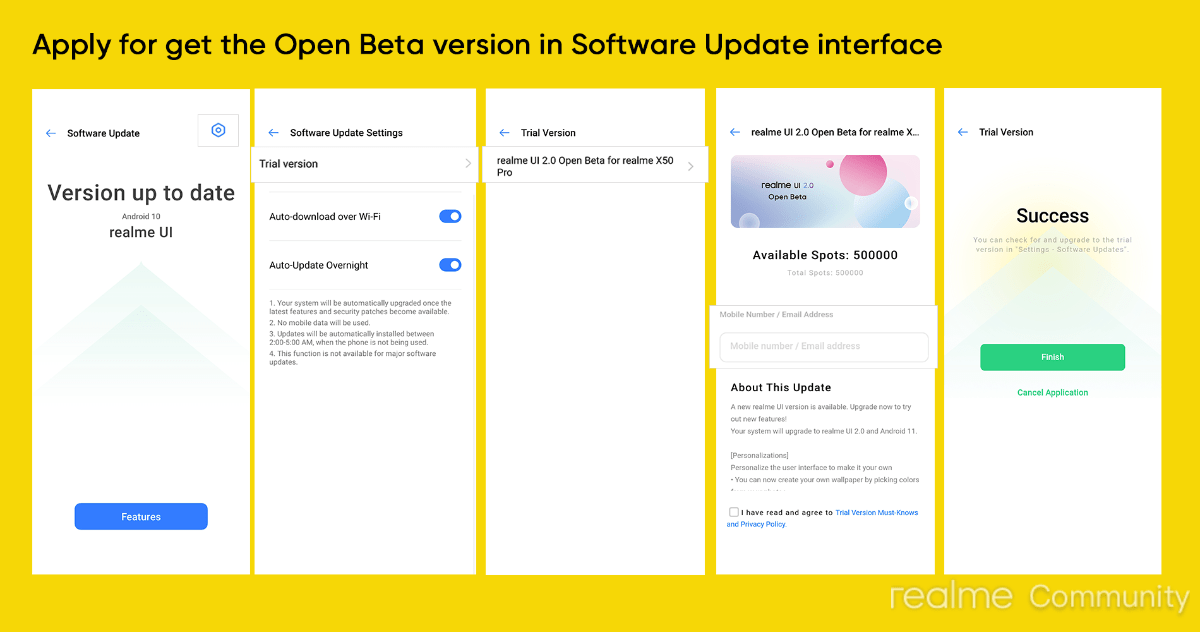 Disclaimer before Applying for Early Access Program:
Make sure your phone is not rooted.
To prevent data loss, make sure to backup your device.
Some third-party application versions might not be compatible with Android 11 yet, after updating these applications might not be available or may crash on your device. Therefore, it is recommended to update all your applications to the latest version available in the Play Store before your update.
The Early Access versions may have an unpredictable impact on your phone and effect on daily use.
Make sure to have more than 5GB available in your phone storage.
Some known bugs:
This new beta version faces issues with swipe-up gestures in some scenes, and there's a low probability that the virtual button window is transparent when calling out in the game.
Preparation:
Realme X2 with 60%+ battery, Unrooted, and Bootloader locked.
Update your device to the required UI version: RMX2001_11.B.55
Apply for Early access through the Settings panel: head over to Settings -> Software Update -> Tap on the settings icon in the top right corner -> Trial Version ->; Submit your details -> Apply Now.
With this, you will be enrolled in the Realme 2.0 Early Access Program.
If there are any bugs or issues you encounter, report them on the following links: https://forms.gle/q6rT94CVuX6j4scj8 or https://docs.google.com/forms/d/e/1FAIpQLSeDXB62-RHTV9vwzSjyir0H1ghvqZEgWa-PQaFzeQp20MTqtA/viewform?usp=sf_link
That said, have you applied? Do let us know by dropping a comment down below.