The latest Realme UI 2.0 based on Android 11 update brings a ton of new features including chat bubbles, three-tone Dark Mode, Optimized Night Charging, Sleep Capsule, Private Safe, and much more. Multiple users have been concerned about knowing what Chat bubbles are? How are they useful? How can I turn on Chat Bubbles in Realme UI? and much more. This post will guide you on how you can set up and use chat notification bubbles with Whatsapp, Telegram on Realme smartphones.
First introduced by Google with Android 11 for messaging apps, Chat Bubbles works by taking notifications from various messaging apps and displaying them to you as a floating icon or chat head. They are the fastest way to get your notifications at the right time. This is similar to WhatsApp's floating chats. This feature works perfectly with Telegram, WhatsApp, and Signal. However, as of now this only works on devices running Realme UI 2.0.
How to Enable Chat Notification Bubbles on Realme Smartphones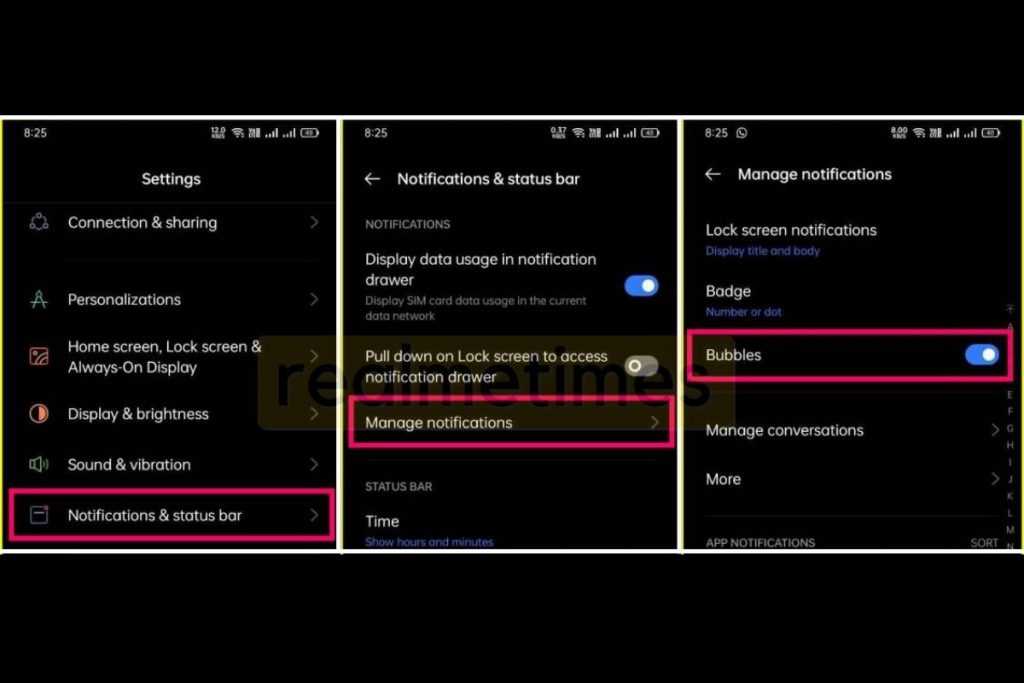 Open the Settings application and navigate to Notification & Status Bar.
Next, click on Manage Notifications
Now enable the toggle for Bubbles.
Scroll down and select the messaging apps you'd like Chat bubbles to work with such as WhatsApp, Telegram, or Signal.
With this, chat notification bubbles are now enabled and you're all set.
How to Use Chat Bubbles on Realme Smartphones
To start using Chat bubbles, whenever you receive any message notification, swipe down the notification panel.
Next, click on the bubble icon at the right corner of the respective app notification.
With this, the chat conversation will now be opened in a bubble.
With that said, I hope you were able to turn on and use chat bubbles on Realme UI. Do let us know your experience by dropping a comment down below.