realme UI 2.0, which is based on Android 11, includes a new dark mode, feature-rich Digital Wellbeing, a new Private Space to hide apps/files, and one of the most intriguing new features is the inclusion of Always-on Display (AOD) for supported devices. AOD introduces a new concept of always being able to the time and notifications without involving any human interaction.
When you're looking at your phone, Android's Always-On Display may help you view information quickly. AOD in realme UI 2.0 provides a plethora of customization options, including the ability to add a signature, name, or image to the AOD interface. In this article, we will look at the always-on display in realme UI 2.0, its features, customizations, a tutorial to enable AOD and a list of supported devices.
What is Always on Display or AOD on Android Phones?
Always on Display, abbreviated to "AOD", or also known as Ambient Display allows the device to showcase limited information even when it is turned off. It's accessible on a lot of Android phones. Throughout the entire sleep mode, a phone with AOD activated keeps a small piece of the screen illuminated. An Always On Display reflects the current date, and battery status by default, but can be configured to show various types of notifications as they arrive or screensavers instead of the notification LED blinking to serve as an indicator for any incoming messages or notifications that the user may need to check out.
Realme UI 2.0 Tips and Tricks: How to Enable AOD on Realme Smartphones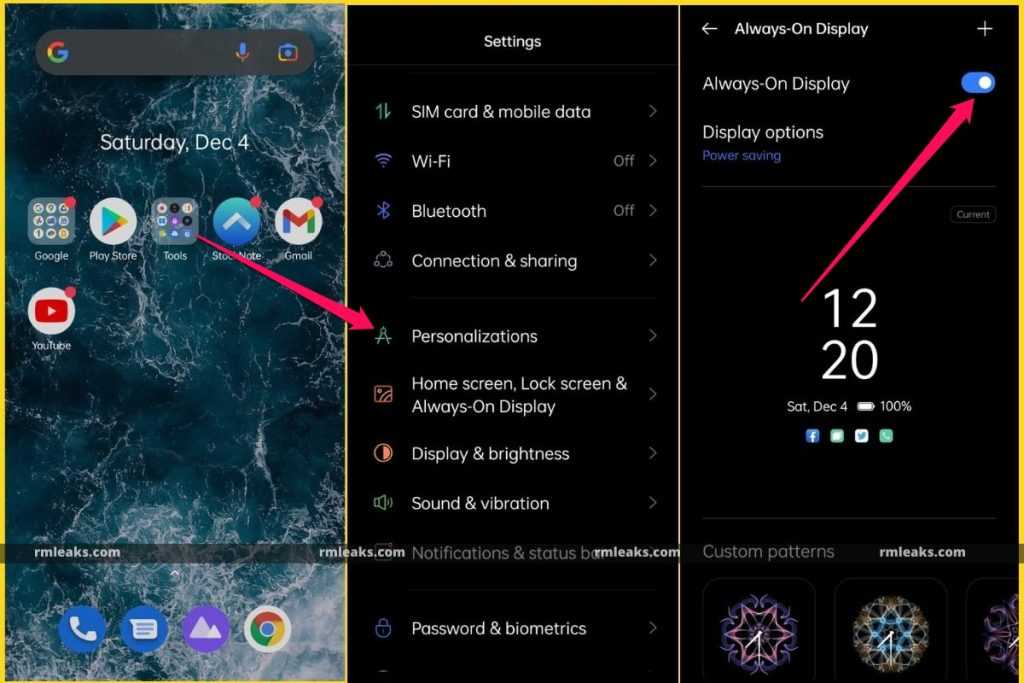 AOD is definitely an exciting feature and it is among the best realme UI 2 features. Here's how you can turn on the always-on display in realme UI 2.0.
Start by opening the Settings application.
Next, Navigate to Settings > Personalizations (Home Screen Lock Screen and Always-on Display).
Here, find and select Always on Display from the list of options.
Now, turn the toggle ON placed right next to the Always-on Display text, such that it turns to Blue.
Here you'll also find a ton of options to personalize the look and feel to your liking. We've discussed the part in detail later in the next heading.
Guide to Customize Always On Display (AOD) in Realme UI 2.0
While the default AOD settings suffice for most users, you can go pro, tweaking the look and feel to your liking. Here's how you can customize the always-on display in realme UI 2.0.
Set a Custom Design and Pattern for Always on Display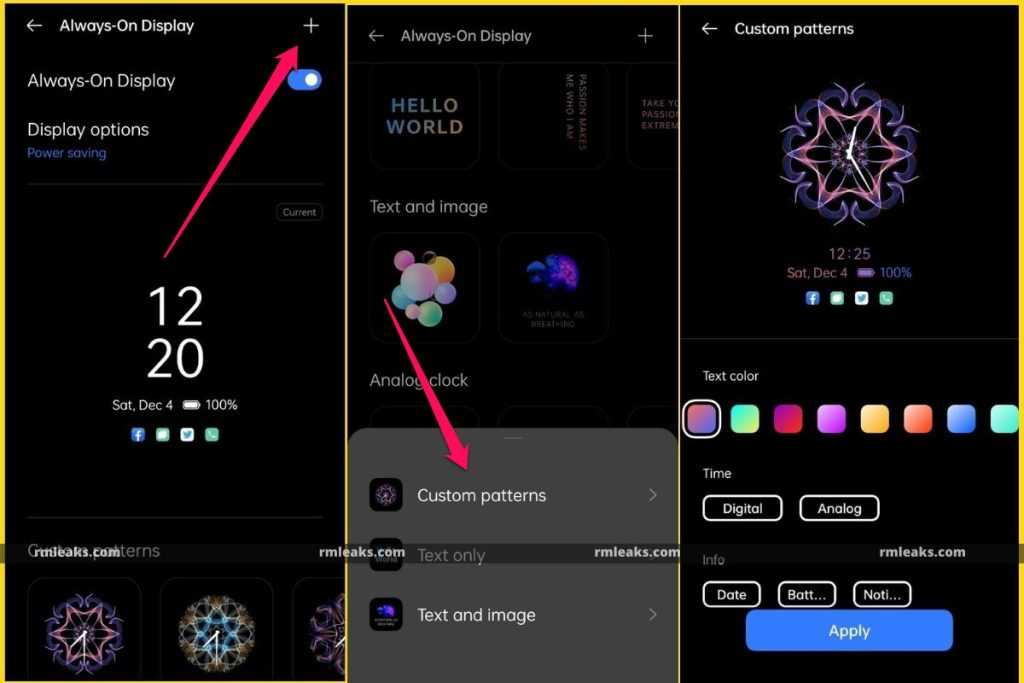 If you're interested in setting up a custom design and pattern for your realme smartphone's lock screen, here's what you need to do.
Head over to the Always-on Display section of the Personzaliation section under Settings.
Next, Tap on the plus (+) icon present at the top right corner and choose one among the three listed options (Custom Patterns, Text Only or Text and Image).
Upon choosing Custom Patterns, you get to choose and design with the help of Paintbrushes, Shapes and Textboxes.
Either drag and drop from the screen or use your fingers as a stylus and draw a custom photo.
Add an Elegant Clock to Always on Display Screen in Realme UI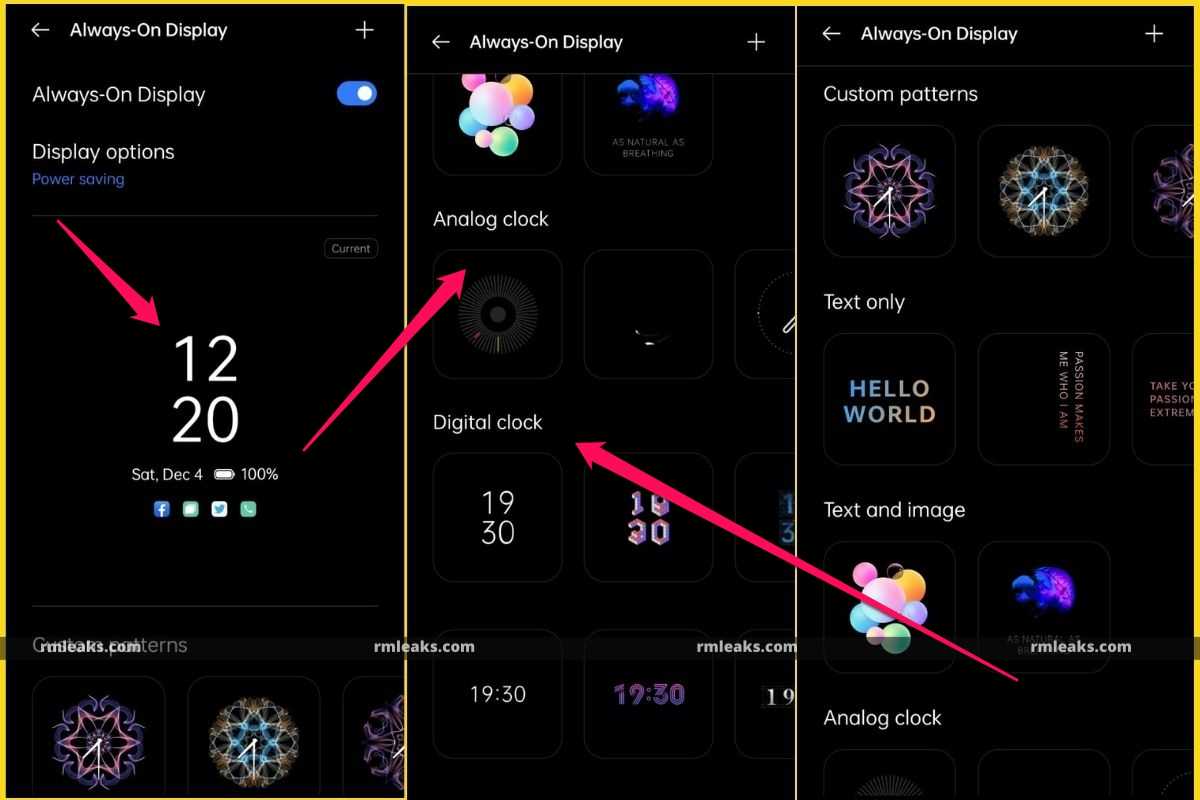 Who does not like a minimal, elegant and beautiful screen on their smartphones? If you're struggling to find your way around, here's what can be done.
Open the Always-on Display section under Settings, swipe up and find the Analog and Digital Clock option.
Here, choose from the list of different available options (there are over 6 analog and 12 digital clocks available, as of writing this article).
Tap on the one you prefer and Voila, you're all set.
Custom Text for AOD
Users can also choose Text only, and add a custom text (something that looks like a watermark) for their black AOD screen. Here's how you can customize the same.
Under AOD options > Text Only, you get the tools required to set a custom text AOD.
Users can choose their prefered text, which could be their name, company or anything – RMLeaks for example.
You also get to pick other icons and widgets to display, change colours, set dates, times and more.
Custom Image and Text for AOD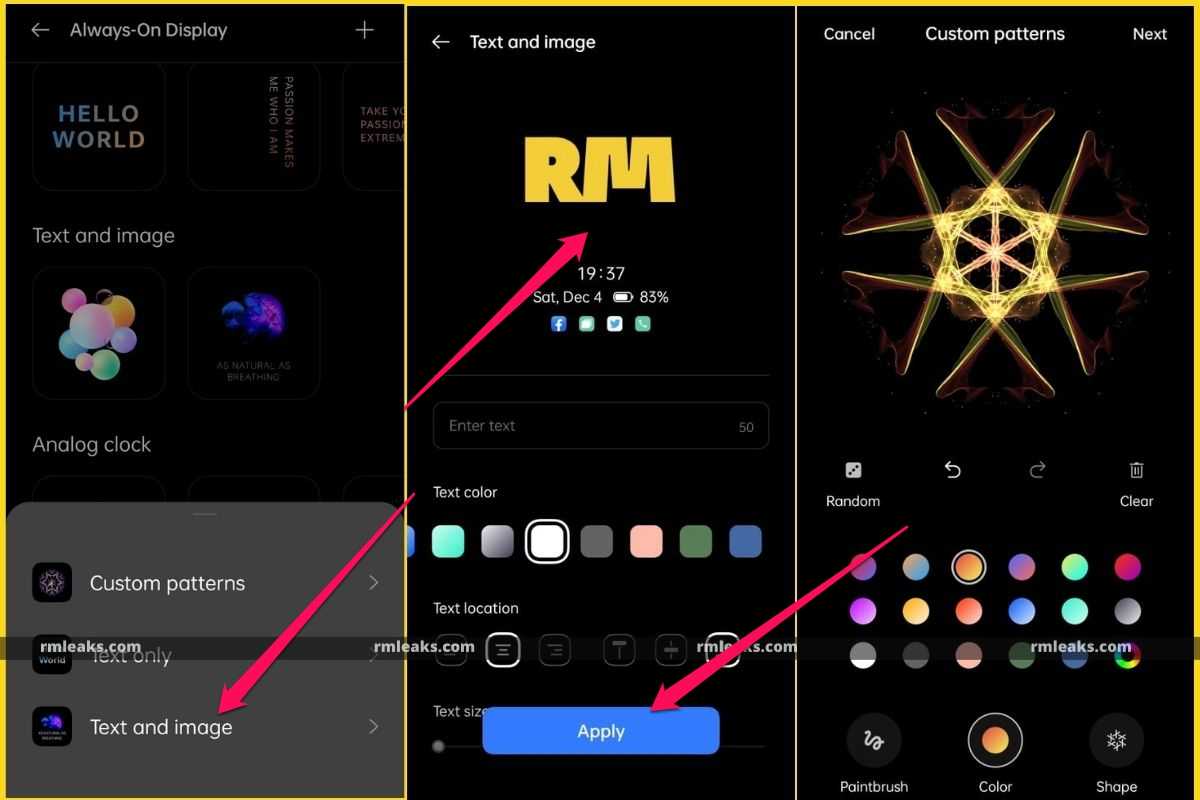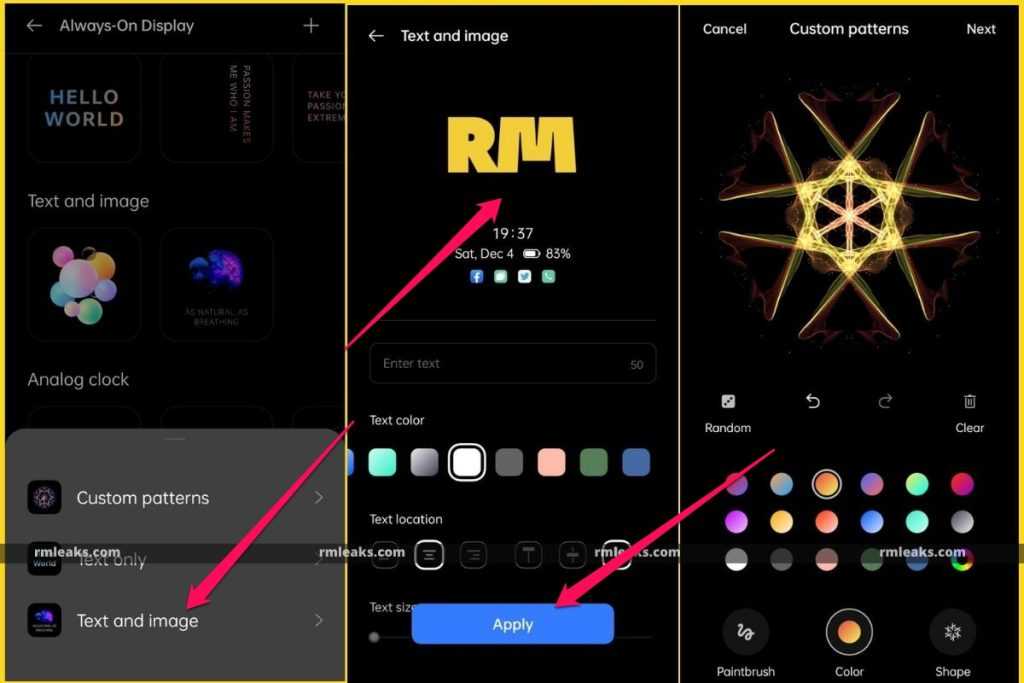 Now, if you'd prefer having both a custom image and text, this might be the option you're looking for. Here's what you need to do.
Navigate to AOD > + icon > Text and Image.
Here, upload your custom image, and add your custom text using the tools present on the page.
You get to choose the location of the text, wrapping, corner, blur effects and more.
Realme Always on Display Supported Devices
Technically, there's a simple requirement for a device to have support for Always on Display – the phone must have an AMOLED or Super AMOLED display panel. Well, the smartphone manufacturer also needs to push the software to customize the AOD screen accordingly. Here's an updated list of always on display compatible realme devices.
Realme GT Series
Realme GT Master Explorer Edition
Realme GT Neo
Realme GT Flash Edition
Realme GT Neo 2T
Realme Number Series
Realme Q Series
Realme Q3 Pro Carnival Edition
Realme Q3 Pro
Realme Q2 Pro
Realme X Series
Realme X7 Pro Extreme Edition
Realme X50 Pro Player Edition
Realme X2 Pro Master Edition
That said, realme UI 3.0 brings major improvements to the UI, here are some of the best features that you should know before upgrading.
FAQs
1] Does Always on Display on My Realme Phone Affect Battery Life?
Yes, enabling Always on Display or AOD on any realme (Android) smartphone results in an additional drain in the battery. The additional battery gain may amount anywhere between 5-10% in realme UI. Note that this varies on software optimizations and the smartphone manufacturer.
2] Can I Download and Install Always on Display APK on Realme (Android) Phones?
There is no way for a user to download and install an Always On Display APK on their smartphone and get the functionality operating if their device does not support AOD by default with its pre-installed software skin. You may, however, upgrade the APK file if your phone supports it (if supported).
3] I Can't Find the Always on Display Option on My Realme UI Phone, What Do I Do?
Well, if AOD is missing on your phone, there's only one possible explanation – your phone does not support Always on Display and will not with any future updates.